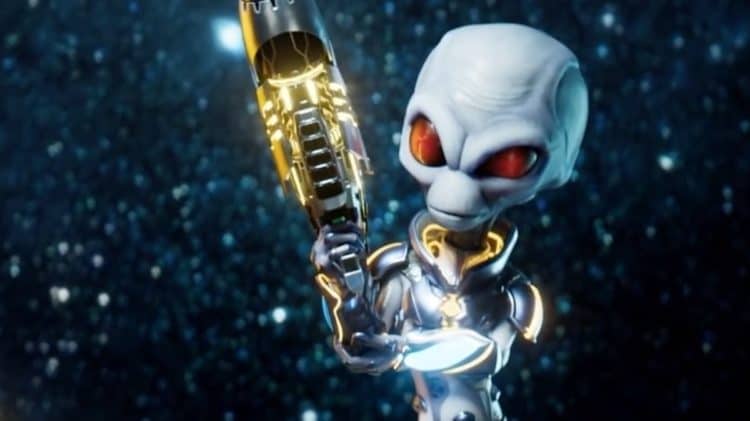 If you were a kid gamer growing up in the early to mid 2000s, you probably played Destroy All Humans!, one of the several games where you play as the bad guy. And guess what? It was a lot of fun. Just read the title and look at the cover of the game itself and that will tell you everything. You're a hostile alien with freaky powers, highly advanced weapons, and a flying saucer. This alien (nicknamed Crypto), looks like your typical alien, with the very big eyes, small body, and the big, oval-shaped head. He also looks hostile, rightfully so, since the gameplay mostly involves you playing as this hostile alien roaming around America in 1959 and just causing pure carnage. And yes, there was a larger plot, but let's face it, we all enjoyed just roaming around and creating tons of destruction. Well, guess what? If you want to do it again, then you'll soon get your chance. Last year, a Destroy All Humans! remake came out and was met with some mixed reception. If that didn't win back those nostalgic memories, then you'll have another chance very soon.
Go on YouTube (or check below) and check out the new trailer for the remake for Destroy All Humans! 2 – Reprobed. I must say, it's a very catchy trailer. First of all, if you remember the trailer for the last remake, you'll probably recall an awesome song from the German heavy metal band Rammstein. Well, this time around, we got another song from Rammstein and once again, our favorite hostile alien Crypto is shown lip dubbing it. Appropriately so, the Rammstein song the trailer uses is Amerika. We all live in America and it's wunderbar. For the hostile alien who intends to Destroy All Humans!, it's more than wunderbar for him.
If you are excited for Destroy All Humans! 2 – Reprobed (that title though), there's no definitive release date as of now, but it will likely come in the near future. If you're someone who's looking to buy one of the next generation consoles or if you already have one, you're in luck. Destroy All Humans! 2 – Reprobed will be released on PS5, Xbox Series X/S, and PC. That's exciting news for those who really want to bring back that nostalgia. Come to think of it, was it really weird that we gamers actually enjoyed destroying humanity? Well, if you consider that Crypto was out for revenge against the government who experimented on him. Now granted, that doesn't exactly justify us controlling Crypto to destroy civilians, but hey, video games can be seriously twisted.
Now Destroy All Humans! is a perfect example of that, so this upcoming remake can really put those type of games back on top. Now since we're back in the nostalgia moment, let's think about what we're possibly going to be doing in the next Destroy All Humans! remake. Personally, I always enjoyed just roaming around the open world environment and wreaking total havoc. Call me crazy, but with the weaponry Crypto carried and the psychokinetic abilities he possessed, you had a lot to work with. With the guns, we had the Zap-O-Matic, the gun that could shoot an electrical discharge and we could see everyone's skeletons when we zapped them. Then there was disintegrator ray, which turned our victims into ashes, along with the Ion detonator, which is basically an alien grenade launcher. Oh, and how can I possibly forget the infamous anal probe? Because it wouldn't be a fun alien game without anal probes, right?
On top of the awesome guns, Destroy All Humans! included some great psychokinetic powers that you could use in a rather comedic manner. It even had a funny name to it called HoloBob. With this power, Crypto was able to sneak past humans unnoticed, although he was required to replenish the energy needed to use this power. He did so by reading the thoughts of humans and even animals. Boy, do I remember doing that and hearing all kinds of hilarious thoughts. Heck, I remember reading some nerdy guy's thoughts about aliens. I thought I could reverse my disguise and see what could happen and sure enough, he got scared and ran away. Yeah, that was kind of lame, but I vaporized him right after. That's the whole point of Destroy All Humans! after all.
Let's go back to the trailer for Destroy All Humans! 2 – Reprobed. By the end of it, the notorious Crypto flew his way into Japan, where he encountered a hulking Godzilla-like creature from the ocean. This colossal monster was ready to destroy Tokyo until Crypto showed up and did some battle with it. The monster destroyed his flying saucer, so Crypto escaped using his jetpack and actually used his psychokinetic abilities to control the monster. Of course, the trailer had to end after that, but you get the insinuation on what happened next. If you can control a monster like that, just imagine what kind of chaos you'll be able to unleash on humanity.
What can I say? Destroy All Humans! was quite the thrill ride back in the day and it can be once again. This upcoming remake will hopefully satisfy fans of the old game and bring back that nostalgia feeling we all crave.