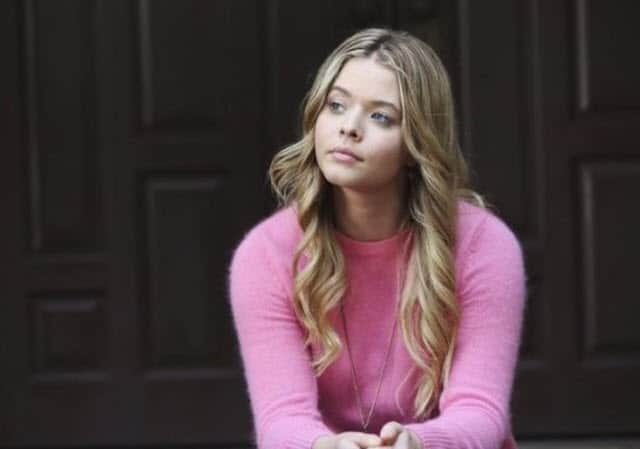 So the girls are back in town with Alison in tow. Pretty Little Liars opens its second episode with yet another lie. After popping into the police station to show proof of life, Alison tells a whopper of being kidnapped and held hostage for two years. The girls are shocked at being pulled right back into Ali's web. From there we are treated to one weirdest and most uncomfortable TV family reunions I have ever seen. I assume most of their parents come to pick them up from the station but since it seems as though in Rosewood only so many parents can be on a rotation at a time, we only see Spencer and Hannah's mothers and are introduced to Alison's father. Spenser almost gets in trouble for being missing for a few days but the usual Rosewood lackadaisical parenting rears its head when Toby and his still horrible hair show up and Mrs. Hastings just has to meet with a client, leaving Spencer and Toby alone. Hannah's mother, Ashley, at least asks a few questions but doesn't seem too concerned about her daughter's having been missing in New York. Aria's father apparently disappears leaving her brother Mike to give the "I can't believe Alison's alive and when did you find out?" speech. Emily's left to her own devices as her Mom is on a delayed plane from Texas and is staying with Spencer for the night, which is the same as being on her own.
This episode is all about reintroducing Alison into the girls' lives. We don't see a lot from her point of view but we get a glimpse at how quickly Alison can deteriorate things just by being…there. Emily is still super hyped and worried about Alison. Hannah seems distant and Spencer is just angry at how they all fall into line at Alison behest. Aria is still pining over Ezra and now guilt tripping over killing Shana. Actually, I thought the writers were going to completely gloss over the fact that Emily has also taken a life and I was happy to see that they had a moment where Emily comforts Aria because only she knows how Aria feels in that moment.
Spencer has developed and grown the most in the time that Alison's been gone. She goes toe to toe with Ali about her kidnapping lie while Emily tries to weakly excuse Alison's actions. This episode may be the set up to a struggle of leadership within the group of Liars. Alison claims she's sorry for all that she has done in the past but it will be interesting to see how long Alison likes playing second fiddle to Spencer, the group's de facto leader.
While we don't have a lot of time with how Alison is coping, the DiLaurentis family is a constant thread this episode. Mrs. DiLaurentis is missing, Alison's father suddenly shows up, and Jason, Alison's brother, is back skulking around. The writers are almost convincing me that Jason is involved with "A" in some way that it can't possibly be true. Jason is a convenient character distraction with his secrecy and temper; he has to be another red herring.
The best part of the episode, besides Spencer standing up to Alison, is Mona bringing her crazy back. She has Aria paranoid as she gets closer to Mike again and she outright threatens Alison to her face and Alison actually looks scared. Mona's come a long way from her sneaking around to being the leader of the leader of the "get back at Ali" club.
I'll admit that I enjoyed this episode more than the premier, mainly because we were able to see the strength of female characters such as Spencer and Mona. This show can devolve at times into confusing territory and sometimes is outright inconsistent, but the friendships on Pretty Little Liars are the strongest thread of the show. Moments like Emily comforting Aria are what give a sense of believability to an otherwise outrageous show.
"Whirly Girly" has taught us that Spencer has changed for good and for the better, Mona is back in action, Emily is still a bit of a weak link, and Aria will always have something to sulk about.
[Photo via ABC Family]