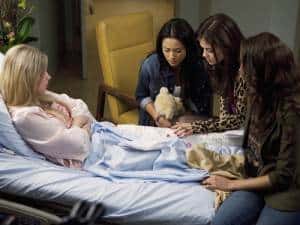 Now that was a freaky ending was it not?
Tonight's winter premiere of Pretty Little Liars came back swinging, scoring a home run in the process. Not only were some of the girls' deepest secrets revealed, but more twists were made and the mystery of "A" got even more complicated with new revelations and red herrings. At this point, everyone is a suspect.
Since this is a premiere episode, the "Pretty Little Girls/Liars" format will be saved until next week due to the main mystery being a prominent force in tonight's episode.
The Somewhat Unusual Suspects
The suspect list in the "Who is 'A'?" mystery just got a little bit overcrowded with the inclusion of Noel Kahn, the guy who tried to court Aria before Mr. Fitz returned. Aria tried to deny this fact, but the evidence is a little overwhelming considering that he lied about being at Mona's party when Aria clearly saw him there after the accident. Plus, the pictures of Emily and Mona were stolen at Noel's party as well, giving him ample opportunity to make the swipe. While it turned out that Noel actually did write the "I See You" message on the back of Ezra's car, it's still unclear if he has any other motive to be 'A.' Then again, he could be in cahoots with someone else, because it seems as if Allison and gang have stepped on a majority of Rosewood kids' feet during Allison's reign. Either way, it's still not a good sign that Noel knows about Ezra and Aria, especially with him being all "unstable" about it.
While Toby Cavanaugh is somewhat off the hook given that he was being taken into custody when Hanna was hit, people are still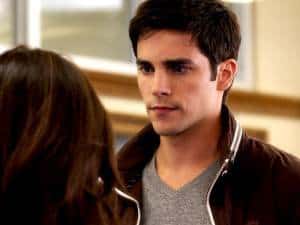 not giving him the benefit of the doubt, except Emily that is. When she tried to contact him in jail, Jenna (whose hearing is borderline superhero levels) gave Emily the riot act with a side of crazy for good measure. If Toby is innocent in motive, Jenna is guilty in pulling his strings to commit her crimes. That is if Toby is actually involved in any of the shenanigans 'A' is pulling.
Then there is Lucas, who really amped up his suspect eligibility every since we saw his feet covered in mud after Allison's memorial was vandalized. Now he's not feeling that Hanna is not feeling him, which could lead to some creepy drama down the line.
Rounding out the entire suspect list this week is good ole Ian, Melissa's ex boyfriend who is allegedly the last person to see Allison alive on the night she disappeared. Also, it seems as if Alison and Ian were an item behind Melissa's back, a secret Allison kept from the other girls. Now that Ian and Melissa have tied the knot in one of the most random moments of the night, it seems that the creep isn't going anywhere anytime soon. Another thing to notice is how much Allison's 'conversation' with Hanna kind of amplifies Ian's motives as well as Aria and Spencer's assumption of the girls dealing with two different people: 'A' and Allison's killer. We will get more into that later.
As for that final scene of the night? How creeped out were you to see that note left on Hanna's cast from 'A?'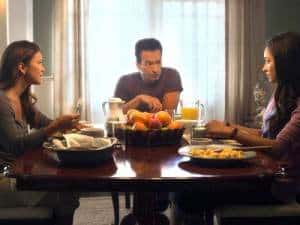 Secrets Revealed
Both Aria and Emily had their secrets exposed tonight. While the girls now know that Aria has a relationship with Ezra, it's really Emily secret that was the most profound reveal between the two, because it was exposed so soon and seemed to not sit well with her parents at all. While Mr. Fields was just basically glad his daughter is alive and breathing, Mrs. Fields was another story. Her annoying rants about conservative values and how they must do something to "save" their daughter was just nauseating, yet sad in the same sense. Emily is about to go through hell with this bombshell she's dropped on her family, and God knows 'A' is not going to make it any better.
Allison's Words of Wisdom and Mystery
The most interesting and game changing scene of the night came when Allison's 'apparition' appeared to Hanna, who was in a drugged state, but was she really dreaming? Allison dropped some tantalizing tidbits in the overall mystery of 'A,' most notably that telling the truth for once got her killed. Now if you take that little morsel of information and apply it to how Ian factors in with the overall mystery (Allison's forbidden fling, the videotape, and the tree carvings), you can't help but move him up on the list of suspects in Allison's murder. As far as playing games with the girls by being 'A?' That one is still a stretch. To an extent.
Now let's discuss Allison in Hanna's dream, because Sasha Pieterse brought her 'A'-game (no pun intended) in this scene. She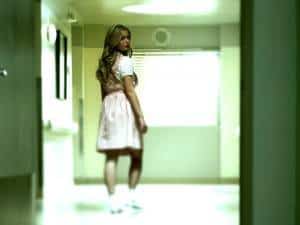 looked very remorseful as she spoke to Hanna, as if she knew her manipulative ways had put her friends in more danger than she ever expected. The scene was a good turning point and harbinger for things to come. Then there is the whole talk about the need for "lies" and how they can be deadly if told to the wrong person at the wrong time. This can tie back to anyone who Allison burned, but Ian's name is still screaming high above that list of suspects in this scenario, especially when it comes to Allison's killer.
Allison also remarked that the girls all collectively know what happened to her, but must put their minds together to find out just what that entails. Does this mean that Allison will make special appearances to the girls throughout the rest of the season to help them remember? Hopefully not. However, Emily and Hanna seem to be the two girls Allison affected the most in personality and self-discovery, which means it would be more plausible for someone like Hanna to get to 'speak' to her one last time. There is so much that could be taken away from this scene and we're sure repeated viewings will bring up more to digest on.
So what did you guys think of the premiere? Was it worth the wait and are you dying for more Lies?
See you next week! Welcome back and Happy New Year!