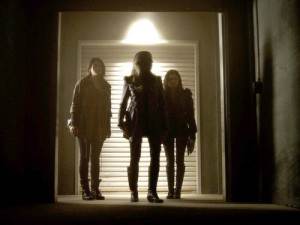 The penultimate episode of Pretty Little Liars introduced more new plot threads/secrets/mysteries than set up for next week's finale. New mysteries towards the end of a show's season, while an even bigger mystery is in play, might seem like a bad thing in most cases, like LOST. With Pretty Little Liars, the new conundrums presented were minor and will hopefully play more into the finale than leave us screaming for a solution for the next two months. With that said, there was one new puzzle piece that I couldn't keep my eyes from rolling on instinct, but it was quickly ignored as a reasonable explanation came to mind. So what new clues did we learn about last night?
1. The Key to "Understanding"
So one new clue involved a key that belonged to Allison, which was the basis for why Jenna hired Caleb to trail Hanna in the first place. When this was introduced, I immediately thought the key wouldn't be found until the final frames of next week's finale. However, I was shocked that not only was it found last night, but how and where it was found.
How could Emily not feel that key imprint under the snow globe? This bothered me to no end until I thought maybe someone possibly put it there. But who? I would rather roll with that explanation than believe Emily never noticed something odd about that token of "friendship" Allison bestowed upon her after all that time. This brings me to my next clue…
2. Jump Drive of Secrets
The key led to a storage unit that only had Allison's old lunch box in the area with a jump drive inside. This is another reason why I think someone is playing scavenger hunt with the girls, because again, it's implausible for Allison to have a storage unit that long without it being cancelled after her death, or lack for of payment to keep it. Someone else had to have taken out the storage unit and plant the key in Emily's room for her to find it. The question is who?
The contents of the jump drive were surveillance of videos of the girls, mostly of Allison. The Little Liars think the jump drive belonged to Allison, but I think it belonged to someone else entirely. Again, the question points back to "who?"
3. Will Someone Arrest Ian Already? And Commit Melissa While We're At It?
If Ian was a new Scratch 'n' Sniff sticker's flavor, the scent would be "guilty as sin." Did you not see how deranged he looked when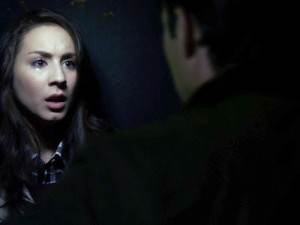 he "saved" Spencer during the carnival scene? Plus, Spencer stuck gold by making Melissa look like a fool in lying for Ian about their alleged stay at Hilton Head Inn, which Melissa clearly has never been to. Why would she choose Ian over her own flesh and blood? Sibling rivalry can only go so damn far before it becomes complete lunacy, especially when your own sister is being framed by your husband for the murder of one of his ex's. Forget a "ridicu-list." Melissa has landed smack on the top of my "Silly Hoe" list.
4. Deputy Garrett Reynolds, What's Your Relevance Again?
This guy just came out of nowhere it seems, causing a crap load of problems for the Little Liars in the process. One thing is for sure, he's a helluva less creepier than Det. Darren Wilden, who shall stay wherever the hell he is now and never return.
Other developments included a possible new love interest for Emily in the college student named Samara (Claire Holt) since Paige is still playing closet games. A part of me feels where Paige is coming from because Emily waited a long time before she came out herself and was actually "pushed" out by 'A'. It's like Emily has taken on 'Maya's' role in the relationship and Paige is the new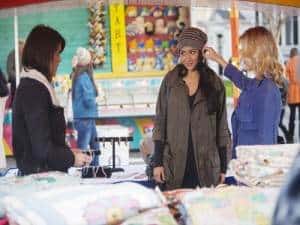 'Emily', which makes me think that Emily would be more understanding of Paige's plight. Then again, I really don't care for Paige as a love interest for Emily, but still feel as if she should come out at her own pace. Not Emily's.
With the drama Aria constantly runs into with Ezra, I personally don't see the point in even trying anymore. Something tells me that we haven't seen the last of Ezra's ex fianceè. Well, that is if Ezra isn't convicted of statutory rape by then since Dep. Reynolds has basically honed in on the relationship. Again, I ask is it worth all this trouble?
Hanna has been hurt so much this year by the men in her life that I kind of understand her reluctance to not forgive Caleb, but I bet she would've turned around if Mona, the Ultimate "Sometiming" Friend, hadn't of intervened. In the end, Caleb was the perfect match for someone like Hanna and it's pretty sad to see him board that bus without proper closure. Damn that Mona…
So the stage is set for the showdown we've been waiting for since last summer, then it's curtains till season two. With a two and a half month break, we will not have to suffer too long for new episodes. Then again, the finale might change that sentiment faster than a lasting relationship on PLL. See you guys next week.