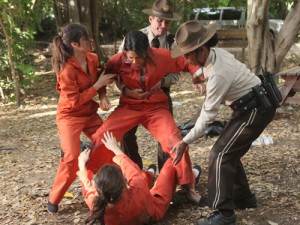 Finally! Pretty Little Liars returned tonight with a winter premiere that quite honestly trumped the entire first half of season two and then some. Tonight, we finally got some actual developments in most of the girls' storylines and, most importantly, the overall mystery of "Who in the Hell is 'A'?" Now with 'A' being one step closer to being 'un-hooded,' Pretty Little Liars is headed for one helluva season finale. But first lets discuss the two other big events in tonight's episode.
First, the one event that everyone was itching to see was the outing of Aria and Ezra's relationship. I'm personally happy about how it went down, because it is a delicate situation and was handled in the most plausible way possible. However. Did anyone really think Byron and Ella were going to be "Oh, honey! We're super okay with it!" Come on, son!
Despite the possibly Gucci decked out elephant in the room during those hellishly tense scenes, I noticed three things: 1) Lucy Hale sold her role as Aria tonight and I almost felt sorry for her position. Almost. 2) Mike became useful for once and knocked the hell out of Ezra (who deserved it). Loved how he simplified the situation by informing Aria how it would've been worse if Byron had of did it. I gained major respect for the guy after that comment and that's saying a lot since I still kind of despise him. 3) I didn't get Ella trying to correlate Byron's infidelity with his students as a reason for Aria dating Ezra. Methinks Ella hasn't really gotten past her husband's past transgressions as much as we thought. But seriously, can you blame her?
One last thing that struck a chord with me out of the whole Ezria fiasco? Ezra's "bad idea to wake a sleepwalker" line to Jackie (who I think is a waste of air), which should be immediately stamped on t-shirts and stickers alike. Great writing from the Pretty Little Liars writing staff there.
Now on to Hanna's newfound hell, who is about to march into Rosewood High in 4-inch heels and a serious chip on her shoulder. Kate, Mr. Marin's evil stepdaughter, is coming to wreck whatever semblance of a normal life Hanna has left, and who wants to bet that Caleb will be the first casualty in this upcoming, ungodly war?
Now finally we are at the main bout of the night. The Liars are beyond pissed off about 'A' going Al Qaeda on their lives and decided to take a stand, and be smart about it, for once.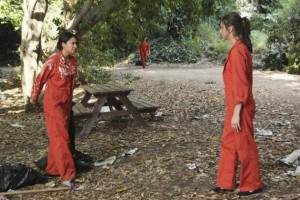 I completely bought the fighting amongst the girls in the first half of the episode, so imagine my face when they revealed it was all a ruse to snare A in a trap? Gob. Smacked! Now I was literally at the edge of my seat during the last 10 minutes of the episode, mostly during the stare down between 'A' and Emily because I was doing my damnedest to try to make out the person under the hood. But before I could get a good guess in, 'A' attacked Emily and ran for the hills once the Liars had them surrounded. I was almost as upset as Spencer when 'A' got away, because I was about to be hella pissed if all this was a gassy build up with no payoff. Then the Liars found 'A's' cell phone and I was grinning just as hard as they was when the scene jumped to a panicked 'A' being outwitted for once.
Some Quick Points
– Did Hanna not get a little payback by hitting 'A' with her car tonight or what? Did anyone else catch that?
– Seems like Lucas isn't over Hanna after all and I have a strange feeling that Kate will take full advantage of this in the long run.
– Speaking of Kate, I also couldn't help feeling that Mr. Marin did this more to punish Hanna than to actually be there for her. I wouldn't have gotten this idea if Ashley didn't have to practically coach the man into explaining why he was moving back to Rosewood. Something is afoot there and I don't like it.
– Toby being out of the loop of the Liars' plan made sense, because he's surrounded by the very people the girls can't trust. Hopefully he realizes this later, because he was really hurt by Spencer shutting him out after all they had been through. Oh well…
Loved every minute of tonight's winter premiere of Pretty Little Liars and I hope the Liars keeps up their "We're not going to take it anymore!" attitude for the rest of the season. What did you guys think of the episode? Are your theories of the identity of 'A' coming clear or falling apart all over the place?
Take a look at a sneak peek to next week's episode here.