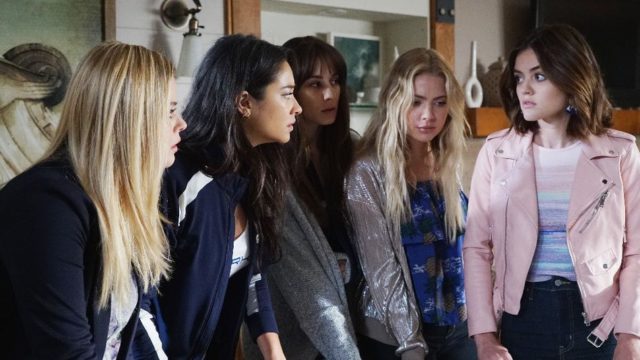 Pretty Little Liars cast members and producers of the show took to a panel at PaleyFest on Saturday and it was revealed that the series finale will have a "huge twist." Before the cast (Ashley Benson, Tyler Blackburn, Shay Mitchell, Andrea Parker, Janel Parrish, Sasha Pieterse and Ian Harding) and producers (I. Marlene King and Joseph Dougherty) took the stage at the Dolby Theatre in Hollywood, audience members were treated to the first minute from episode 11 of Pretty Little Liar's seventh and final season.
The show is known for creating questions upon questions for each answer they come up with so the revelation that a huge twist is coming isn't a huge surprise. While it's still unclear which characters will make it to the finale but during the panel discussion there was a slight slip up when it was revealed that the final table read was particularly emotional because there were so many returning faces.
Here are some quotes from PaleyFest that might give you a little insight on what to expect in the remaining episodes
"All the [relationship] endgames will be the endgames, but nobody's going to get there super easily," King revealed in regards to fans' favorite ships. "There's going to be some bends in the road to get to the happily ever after."
"Alison hasn't dealt with her sexuality," King said. "These 10 episodes are about Alison figuring out her sexuality and Emily plays a part in it." (Also worth noting: Alison is pregnant, but the father has yet to be revealed).
"Spaleb was fun to dabble with… [but] Haleb is where it's at," Blackburn said of his character, Caleb, and his dalliance with Bellisario's Spencer — which was nothing compared to the time spent with his one true love, Benson's Hanna.
"The finale is a two-hour finale," she said. "It feels like a movie and it was written as if it was a movie. I hope you guys are satisfied with this huge twist."
And just because the show is ending its 7 year run does not mean there won't be any spinoff opportunities. Fans pointed out that there have been numerous rumors of a spinoff series. Marlene King responded with "We're open to pitches."