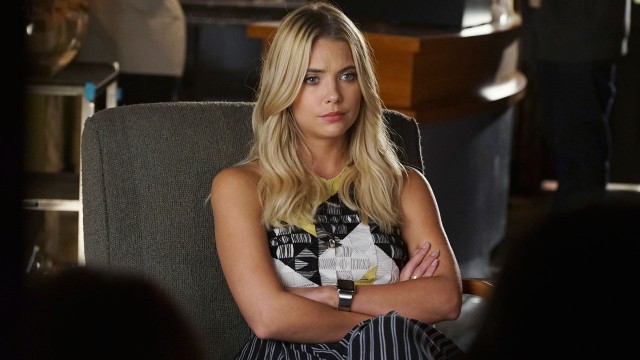 Is everyone excited for the 6B season finale of Pretty Little Liars? We definitely know of one start who's psyched. It's none other than Ashley Benson. Tonight's episode wraps up with a familiar face returning to Rosewood. None other than Mrs. D makes a dirty appearance in Allison's doorway. Dirty because she's well, covered in dirt, as in she's a corpse. Did Mrs. D really return from the dead? Ashley Benson gave an interview to E! about it in which she says:
Fans are going to be blown away. There's going to be a cute Haleb flashback that you're going to see, which fans are super excited about. I'm Team Haleb as everyone knows that, so I think it's going to be super cool and everyone is going to be super happy.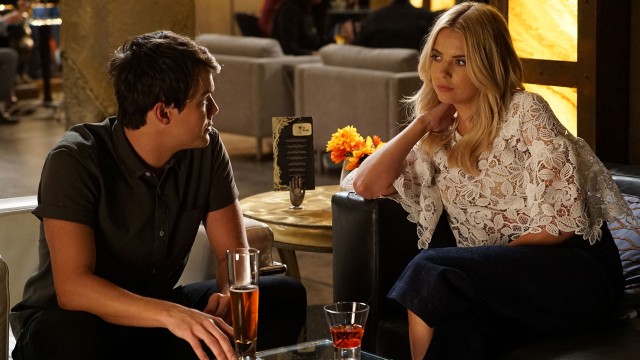 Moving on about Mrs. D. In an exclusive clip on Variety Mrs. D appears in Alison's doorway, looking like she literally just came back from the dead. Covered in dirt, she freaks out Ali – probably as much as she freaked out any viewers watching the footage – but by the time she looks again, her mom is gone. Perhaps thinking it was another dream, Ali goes downstairs and picks up the ringing phone to a dead-ish voice on the other side asking, "Did you miss me?"
When asked about her reaction to reading the final script here's what Benson had to say:
I was very excited. I got to do some really cool things, and the finale is very different from what we have done before. Obviously, there's a lot of danger and searching, this and that, that we've had in other season finales, but this one, there is so many emotions. I think that's why it's one of my favorites because you get to see what happened to Hanna and Caleb and their break-up and there are super cool shots I got to do in the rain and it's like slow motion. So I saw that in the preview and was like, "Yes!" I was screenshotting it because it was my rain moment because I never had one. But yeah, I think the fans are really going to like it and I think hopefully they are going to be left on their feet being like, "What just happened?" And there's a twin that's going to be revealed, so a lot of people think it's going to be Hanna's twin…
To say the least, there's going to be plenty of action and plots on PLL tonight. In fact here are some Twitter reactions to what might go down tonight that have just been released! There's a resounding agreement that Emison sex is coming.
@PLLTVSeries emison sex is coming

– Pretty Little Liars (@pllfinale) March 15, 2016
@PLLTVSeries @FreeformTV couldn't miss this for the world! Really need to know who the twin is!! #PLL #TwinOnPLL #FinaleFever

– Era (@eerai_marshall) March 15, 2016
@PLLTVSeries @FreeformTV WE CAN'T WAIT FOR THIS ❤ #TwinOnPLL

– jubs (@stydiastrue) March 15, 2016
Want some more teasers? Here you go!
What will Alison hallucinate next? The #PLL spring finale is only FIVE hours away, EST/CST! pic.twitter.com/NCpzmAl4l5

– Pretty Little Liars (@PLLTVSeries) March 15, 2016
Unexplained. Unexpected. Unbelievable. #TwinOnPLL TONIGHT.https://t.co/CB2tzbs81C

– Pretty Little Liars (@PLLTVSeries) March 15, 2016
Start in on #TwinOnPLL right now!
Tell us what's wrong with this post? How could we improve it? :)
Let us improve this post!