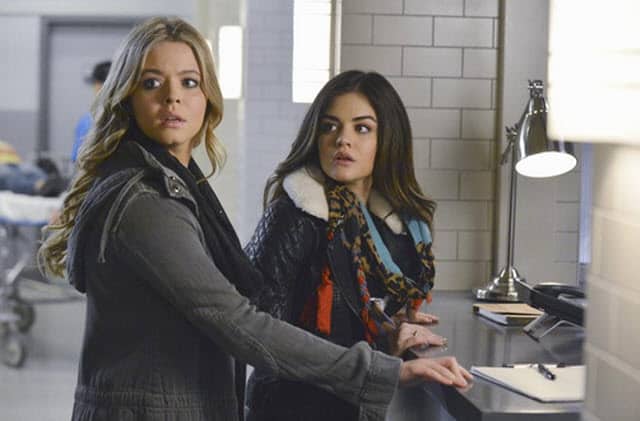 The summer premiere of Pretty Little Liars picks up immediately where the finale left off; Ezra shot and being carted off to the hospital while the girls devise another plan to elude "A." The plan involves splitting up and meeting up at the hospital and leaving Ali to run off on her own and I thought it would make sense after a second viewing but no. "A" is always one step ahead of the girls. Ali and friends end up in a playground surrounded by a lot of dark masked people all claiming to be "A." The girls, minus Aria who is sitting vigil for Ezra, run away and take cover in a closed theater for the night. Ali sneaks out to help Cece (the cop killer) get out of the country, using Alison's passport. So Alison still keeping secrets, no surprise there. Suddenly Shauna shows up at the theater, closely followed by Aria, brandishing a gun and lets loose on the girls about "the Jenna thing" the trick that Ali instigated a few years ago that left Jenna blind. Shauna wants revenge on Jenna's behalf, but before she can use the gun, Aria knocks her off the stage and kills her. The girls assume Shauna was "A" and that it's all over.
A majority of the episode takes place on the stage in the theater which is actually a pretty suitable setting for a show about all the lies and secrets that are kept. Life on the stage is in essence a life itself, but an acceptable one. Ali sneaks away from the girls keeping yet another secret, continuing to play her role. I wonder how much Ali has really changed during her years in hiding. She was a very manipulative person who used the secrets of her friends to play them against one another and just plain hurt them at times. Ali seems repentant and genuinely in fear of someone whom she may have hurt in the past, but Ali is also an actress in life and could just be playing another one of her games to reel her friends back in.
I'm most disappointed in Aria; I'm always disappointed Aria when she's pining away for her teacher, Ezra. I don't believe the star crossed lovers tale that the show is trying to sell. Ezra admitted to stalking the girls and corralling others to assist him. I can't get past the teacher/student aspect, but even if I could, Ezra's a stalker who scared those girls numerous times. Aria running back is foolish but unfortunately not unexpected.
A recurring theme throughout the episode was the having the courage to fight back. The girls banded together to shelter Alison and face down "A" once and for all and Mona had a chance to stand out with her spark of leadership. Mona gathered together a number of people whom Alison had treated with cruelty in the past and convinces them to join her in taking Alison down. Mona has always been a follower; from her history of wanting to be in the with Liars when she was dubbed "loser Mona" by Ali, to being controlled by Ezra to do his dirty work, and even after being released from Radley and being desperate to rekindle her friendship with Hannah. Now Mona appears to be in charge, for now. This storyline needs to be played out because the people involved deserve retribution whether or not Alison has suddenly decided to have a personality change, which I highly doubt.
Overall the "Escape to New York" ( I had completely forgotten they had left Rosewood at the end of last season and was puzzled for a bit about seeing a 23rd street subway) was a middling episode. The answers revealed (Shauna is "A." Maybe) weren't very compelling and lacked emotional connection to this viewer. I know this show is big on the constant surprises that end up being pretty mundane. I thought with the summer season opener we would get at least one explosive Twitter worthy moment to gear the audience up for the rest of the season. With good storytelling, those surprise moments aren't always necessary, but the episode was light on exploring character development, in light of not-so-dead Alison now being a permanent fixture, we could have used a hook to reel us in for the season.
[Photo via ABC Family]