Cliffhanger? Solved. A Death? Yes. No. Maybe. Kinda… This week's Pretty Little Liar didn't slow down from its awesome ass cliffhanger from last week. Did Emily bite the dust? Let's find out…
A Pretty Little Girl's Tall, Dark (Psychotic?)… Knight in Shining Armor?
Hanna, Aria, and Spencer run throughout the school in search of Emily. They dial her phone again and this time, they trace it to what is left of the chemistry lab. They see blood, but it's from a broken vial. No signs of Emily. Or Toby.
Switch over to a bloody Toby driving a bloody and unconscious Emily to the hospital. He looks back at her, fear in his eyes. Then we hit credits. DAMMIT!!!
Pretty Little Girls Must Come Into Their Own… No Matter What Society (or A Social Climbing Mother) Tells Them
It's the day after and an officer is trying to question a bandaged up Emily about the night before, but Mrs. Fields won't let them in. The cop tell Mama Fields that someone (Toby) carried Emily to a nurse and then bolted. Mrs. Fields doesn't believe that Ben would do such a thing and we automatically notice how much tabs she keeps on her daughter. The officer corrects Mrs. Field by saying that it was Toby who was Emily's date, which puts a look of disgust and disappointment on her face that I felt bad knowing this before Mrs. Fields did. She then plays it off, saying that despite the cops thinking that Emily is lying to protect Toby (Emily claimed she fell and bumped her head), that is most definitely not the case. Uh huh.
Upstairs, Spencer and Aria fill Emily in on what was in the file, all the sordid details of Jenna and Toby's tryst with each other. They are sure that gives Toby motive to go psycho and to kill Alison and them as well. But Emily doesn't think so, because she's still breathing and talking to them. Hanna shows up and after the other girls leave, Emily asks what made her think that she wanted to take Maya to the dance. Hanna reveals A's stunt with the picture, adding that Emily needs to be true to what she wants and that they will accept her no matter what. Emily laments that it's not really them she's worried about, rather than her straight-laced parents.
As if on cue, Mrs. Fields plays her role later on by posting up in Emily's room and demands to know the truth about what's going on. What starts out as a mother being concerned with her daughter's well meaning ends with a mother concerned about her daughter's image. Emily is quickly annoyed, but her mother demands for her to be more honest and true to herself from now on. Oh, Mrs. Fields, be careful what you wish for.
A couple of days later at school. Emily sees Maya, who ignores her completely. Later, Emily approaches Maya and admits her feelings for Maya and tells her that she wants this to work. Maya isn't sure, but emily eventually wins her over. Aww…
Oh and remember the car that was going to be raffled off at the dance? Emily won it. Well, either that or the homecoming court felt a little sorry.
Pretty Little Girls Get A Bit Of Reality Tossed In Their Face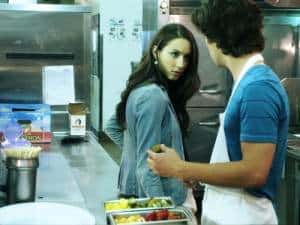 Spencer finds Alex at the Country Club to make up for Melissa's comments the previous night. Alex is miffed at first, but relents to Spencer's requests for another chance under one condition: he controls the date. Spencer agrees. A couple of days later, Alex texts Spencer and cancels the plans stating work is the reason, but the country club is closed on the day Alex claims to work, which makes Spencer think that he doesn't want to have anything to do with her. She returns to the country club to actually find Alex working and even pitches in to help just to be with him. The two have fun until Spencer finds the Board, a locker with crude markings over the pictures of country club members. Spencer finds one of her with devilish horns drawn on it. Alex claims that he didn't know her picture was there, but adds that people can be mean no matter what social rank they are. Spencer leaves, pissed and hurt.
But she doesn't stay away as she comes back to apologize and make up. Alex welcomes her with a little salsa dance in the kitchen and ends it with a kiss. Apology accepted!
Pretty Little Girls Know How To Make A Photo Op Work… Even If The Boy Toy She's With Doesn't
Hanna meets with Lucas to take Homecoming King and Queen photos for the yearbook, but amidst their flirting Sean shows up and acts like a complete ass towards Hanna. She apologizes for ditching him, but he doesn't care, even if it did mean tending to Emily. He also threatens Lucas when a candid photo is taken, which Hanna argues for him to take his anger out on her, not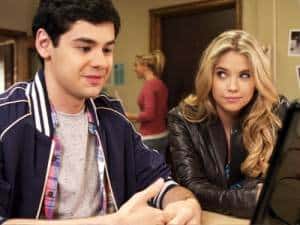 innocent bystanders. Later as they look over the photos, Lucas and Hanna bond over silly vids of animals doing stupid, hilarious things. He reveals that he can't believe that someone as nice and kind as Hanna could've been friends with Alison, but Hanna defends her dead friend, but reveals her old name, Hefty Hanna, as well. She then says that she made her feel special at the same time.
Later at home, Sean stops by Hanna's house to study and make up, which she happily accepts. She tries to show him the vids she and Lucas laughed to, but Sean is not interested, which hurts Hanna a bit, but she doesn't care. She has her King back and that all that matters. But if she knew what her King was up to…
Pretty Little Girls Always Must Show Dignity At All Times… Even When Their World Is Completely Falling Apart.
Aria tries to do damage control at home, while trying to contact Ezra, who she hasn't heard from since the dance. Ella delivers some flowers to Aria that she thinks are from her lover/English teacher, but is horrified when she finds out they are actually from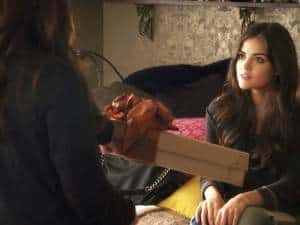 SEAN!!! What the hell, man??!?!? When Sean acquires if she got the flowers, Aria tells him to back off and deflect all affection toward Hanna, who is head over heels in love with him. While they are talking, Mike, Aria's brother, gets into a brawl with a kid at school. When Aria confronts him about this, Mike blows her off and stalks away. When she confronts him later, Aria asks if he understands what is going on, but he goes on a tirade how he doesn't care about their parents since they don't care about them. Yep, I knew I wasn't going to like him. I mean, yea he's hurt, but I have seen people deal in a billion other ways instead of acting out in school.
Meanwhile, Ella and Byron are still at it and it's finally affecting Aria's resolve. She asks Byron if he's leaving, but he says he doesn't want to, despite Ella thinking it would be best. Aria wants him to fight for his love for Ella, but he thinks Ella's too young to understand the situation they are in. Later, Byron and Ella go to the school to see about Mike, but end up arguing over whether Byron should stay or not since the kids' are now clearly affected by their split. Ella reaffirms that she wants him out the house and soon. But in the end, it's Ella that ends up leaving and Aria looks on sadly as her mother drives off.
Since Ezra has taken a sudden leave of absence from school (Sara Shepard, the creator of the book series is the sub!) and hasn't returned any of her calls, Aria stops by his apartment, but gets no answer. Taking his spare key, Aria enters Ezra's apartment in time to catch a voice mail being left by someone from another school board about Ezra's second job interview with them. Dun, dun, dun!
Pretty Little Liars Tend To Get The Game All Wrong… And Someone Pays Dearly For It.
While the girls fuss over Emily, Hanna reminds them that she still has the file, but can't return it due to police swarming the doctor's office. They decide to postpone the return of the files for later. After they leave, Jenna stops by to ask Emily about Toby's whereabouts and that Emily was the only one who got close to him, adding that Toby is not stable and could do something crazy in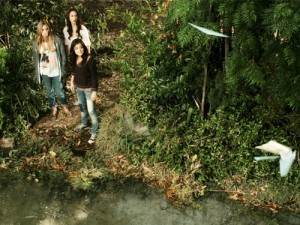 light of everything that has happened. Jenna also worries about the missing files, which Emily assures her are in a safe location. Jenna then reveals that the secret can't get out and that Emily should understand that since Alison told all their secrets when she visited Jenna in the hospital. Emily immediately calls Hanna to tell her not to destroy the files.
Meanwhile, Hanna has had it with this 'mystery' affecting her personal life and wants to destroy the files. Irony! Spencer and Aria thinks she's nuts, which causes Hanna to comment on how Spencer can get off scott free, but she can't. The two girls bicker until Aria takes the files and tosses them into the creek, but wish they hadn't when Emily finally contacts them with the message. At school, Jenna approaches Emily about the files, which she reveals were taken care of. Jenna isn't pleased by this and holds Emily to her word.
While driving home from school one day, Emily drives by the Cavanaugh house and sees a totaled motorcycle on the back of a truck and police at the house. Jenna told Emily that Toby drove off on his motorcycle after dumping Emily at the hospital. After seeing Jenna crying profusely on the porch, Emily thinks the worse and tells the girls. Just when they think they are safe, "A" sends them a text expressing thanks for getting Toby out of the way.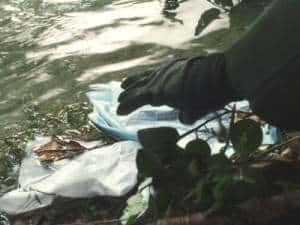 Uh oh.
Then we return to Toby's files flowing down the creek… and a black gloved hand waiting to collect them from the other end of it. Wow.
So what do you think will happen next? Leave comments here and in our forum!