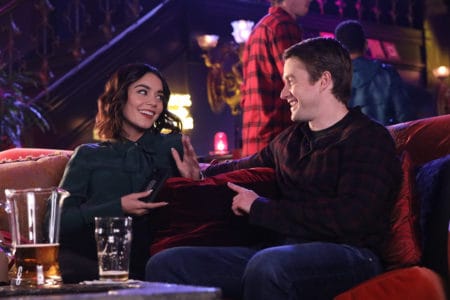 Just when I thought this show might fail, it charms me to think otherwise. "Emily Dates a Henchman" was a fun and cute episode. Maybe cute wasn't the adjective the writers or actors were hoping for, but it feels appropriate.
Teddy, Ron, and Van go Batman hunting after finding a leftover batarang. I loved this subplot. Tudyk can make anything fun, even a sideswipe of a car mirror from Batman as he saves a bus full of orphans. Ron leaves the batarang with cookies and milk, and he and Teddy practice acting cool around Batman.
This was just a fun plot for any fan of the DC universe. It's nice that they focused on the biggest superhero they have. The "Dork Knight" was never seen on screen, but the sheer idea they would see him was fun. When the trio finally do meet Batman it's because he's saving them. I was a fan of The Justice League as a kid, and I like that Powerless is bringing the old-school Batman onto the small screen.
While the boys handled the crime, the girls went on a date night. Very stereotypical, I guess. Everyone in the office insists that Emily needs to meet a nice guy, and she does. Too bad he's a henchman, for the Riddler!
Batman is like a rapper who saves lives. This plot was only fun because we finally got to see the entire cast meshing. The lines were all great, and the dynamic was cute and fun. I like that they don't want Emily to get too hurt.
This episode was fun from start to finish, maybe not for a hardcore DC fan, but I certainly enjoyed it.
[Photo credit: Evans Vestal Ward/NBC]