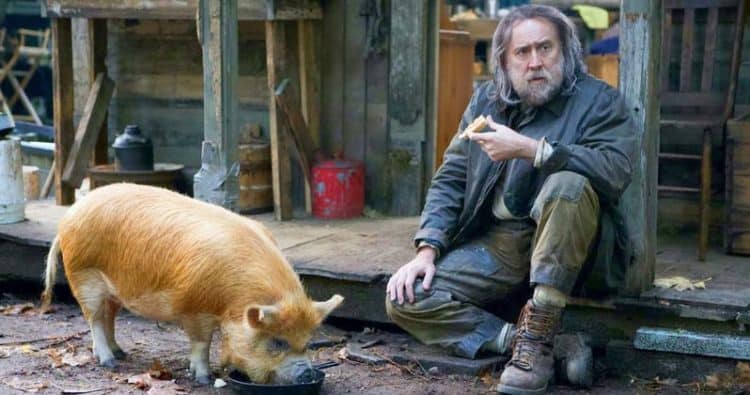 Nicolas Cage entered Hollywood as one of the greatest actors of all time, and he's only doubled down since. He lays it on thick and screams his way through many of his most iconic roles. However, painting this as his entire schtick is a disservice to not only him but the art of acting as a whole. After all, Cage isn't just a loud, obnoxious ham. His beloved Disney adventure series, National Treasure, is less about the absurdity of the man himself and more about his ability to make the unfathomable events on-screen believable. Where he's at his best, however, is when he strips away the parody and reminds us why society is inherently interested in such a bizarre specimen.
Cage's latest big-screen masterpiece is Michael Solanski's critically-acclaimed genre-crossing revenge drama Pig. Throughout the film's first twenty minutes, the Oscar-winner seldom says a word, opting instead for blank stares, mumbles, and melting into a character unlike any he has ever played before. The film works because Solanski lets the actor do his thing. When one hears a movie about Nicolas Cage's beloved truffle pig being stolen and brought to an underworld that includes underground restaurant fights, they likely picture a new direct-to-Redbox movie. Pig, however, is not that film. For half of its runtime, you almost expect his subdued performance to boil into another treasure trove of gifs and memes. Pig is an increddibly personal drama about the dangers of gentrification through the eyes of a jaded chef, and Cage plays this as perfectly as he could
To watch Cage at his Cagiest is a master class of baroque blazons and a study in self-parody. He doesn't just chew scenery. He devours it, spits it out, devours it again, then chews the scenery around it, too. Any notion that the man behind the most impressive three-peat of the mid-nineties is not putting out good work, however, isn't just questionable. It's downright wrong. The patron saint of internet culture is not without blame for building such an unfair reputation. His natural theatricality combined with a penchant for taking any role that pays the IRS has mislabeled him as the king of straight-to-Redbox entertainment. It doesn't help that he's appeared in 28 films since 2015 alone. While Cage brings his brand more often than he doesn't, he isn't immune to phoning it in. Don't confuse his financial decisions disguised as cinema fool you. However, Nicolas Cage is still one of the best ever to do it, and any review comparing a subdued work of art like Pig to action-packed adventures like John Wick either have not seen the movie or fell asleep after the opening act.
Nobody chews scenery like Cage. His genuine, Oscar-worthy turn in 2018's experimental horror film, Mandy has the whole gamut of Cage emotions. While mostly beloved by the biggest cinephiles, Mandy features every side of the quintessential Nicolas Cage experience. At any given moment, Cage is the titular character's awkward, loving husband, the vengeful maniac, or a loose cannon whose entire wheel of emotions roles out in just one minute of screentime. Praise for this astonishingly poignant turn has become the unofficial battle cry of the cult of Nicolas Cage for three years. The memes, bizarre pillows, and occasional inability to reel it in have unfairly put him alongside Bruce Willis as a lazy actor trying to pay the rent. This is demonstrably false.
Hollywood is a funny place where great actors are given the boot when box office receipts don't match the brilliance of their performances. This means that while Dane Cook with chops gets another blockbuster film on Amazon while cage gets relegated to movies with a shoe-string budget bolstered only by the cost of getting him there. Does he phone it in? Sometimes. Are the movies often putrid? Absolutely. Does this mean that Cage lost his talent? no! Cage is a human being who occasionally takes a job he hates. No one can watch his snooze-inducing turns in Left Behind and compare them to his manic turn in Mandy. Cage has days where he goes to work, delivers his lines, and leaves. However, he does so with a sense of commitment that several current A-listers would never dare do not muster.
Cage earned his reputation as Hollywood's lunatic uncle. After all, this is the man who cannot get into a shouting match without turning the dial to eleven and scream about his willingness to 'die for honor without a second thought. The man gave no-holds-barred performances such as A Vampire's Kiss in his early twenties that seemed to come from men three times his age. He's timeless, catastrophically on-brand, and a bastion of charisma nearly every time he's on the screen in a project that is worthy of his skills. The loud, voracious acting-with-a-capital-a is just a part of the Nicolas Cage experience. The other is a man whose ability to convey the human experience to the screen is often forgotten in favor of his loudest yells.
Leaving Las Vegas may be a portrait of a self-destructive drunk, but Cage didn't win his Oscar by cranking it all the way up to 11. While there are hints of his most memeable self, he counteracts it with moments of absolute beauty, soft-spoken struggles, and an ability to flip between both, depending on the scene. When Nicolas Cage gets fully engaged, he shows the art of acting better than 99-percent of the population, and he does so without trying.
Like sports, people often assume that actors take the stage to win. Whether it's box office receipts, Oscars, or simply making themselves a bigger name in the latest Marvel blockbuster. There's nothing wrong with this. The Hollywood celebrity machine has long measured success with fame, box office receipts, and awards. Cage does not. Cage commits to making his performance something special when it comes to his craft, and when everyone else comes on board, the entire movie often yields the best results.
Just because you haven't heard of films like Mom and Dad, Army of One, and his delightfully Elijah Wood heist movie Dog Eat Dot, it doesn't mean he gave a bad performance.
Nicolas Cage makes movies that even I, an unabashed fan without a hit of irony in my life, cannot watch in good conscience. However, when I still muster up the strength to do so, it makes me sad. Cage is rarely at fault for these movies. They occupy a space that better filmmakers and actors could have used better with a better role. Yes, he takes the roles, and yes, sometimes you can see the death of doing so in his eyes. However, when I see Cage acting alongside amateurs and nepotism hires, I see someone whose talents would be best used in a project worthy of his skills.
Every actor phones it in, and Cage is no exception. Despite this, he's consistently given fans an insight into the artistry that makes even his worst performances, at the very least, a casual curiosity. Pushing sixty, Cage is still taking every role that's thrown his way, but with Pig reminding the masses of his talent and a breadth of forgotten roles leading up to it, it's time to stop talking about Cage's best work like it's already behind him. Instead, we should look forward to his next swing. After all, Cage might strike out from time to time, and he might even do so in an embarrassing fashion. However, when Nicolas Cage puts that ball over the fence, he does so with a swagger that nobody but himself could ever muster.
Tell us what's wrong with this post? How could we improve it? :)
Let us improve this post!