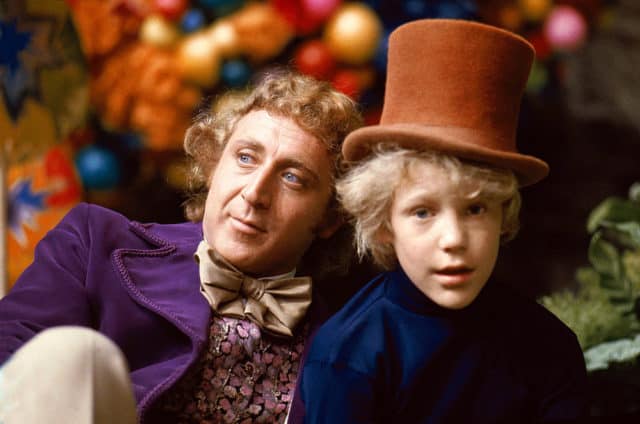 Ranking the kids in Willy Wonka and the Chocolate Factory isn't too hard really. Four of them are just flat out terrible kids to some degree, but a few of them are undeniably worse than the others. The movie shows the obvious dangers of being a spoiled rotten brat versus being a child that knows how to value what they're given. The test that Wonka presents them is one that is all character and little else since the kids don't display a lot of brains between them when it comes to getting free candy. But as the movie goes on you can see who's the smartest and who just doesn't care and goes for broke.
The list is ranked worst to best, and keep in mind it's based on behavior, so if you disagree please voice your opinion, I'd love to hear it.
5. Veruca Salt
If there's any argument that Veruca is the worst of the kids then those reading this must have been spoiled rotten or have very forgiving hearts. When it comes to the five kids though she's the only one that goes absolutely bonkers when she doesn't get what she wants and is deemed a 'bad egg' and sent down the garbage chute. In the remake she's not crowing about golden geese but squirrels, and she's deemed a 'bad nut', but she's just as vicious and just as bad.
4. Mike Teavee
Mike gets this spot pretty much because he's a know-it-all that doesn't know when to keep his mouth shut and his opinions either polite or to himself. He's the kind of kid that knows everything about everything, or so he thinks, and is able to prove it or at least try. In the remake he's still got a very nasty attitude and he gets the exact same treatment, but without the full bodysuit. He's the kid you'd like to humble just a bit since he believes he's the expert at everything.
3. Violet Beauregarde
Violet is really just as bad as the previous two but in regards to her attitude she knows how to tone it down when it's necessary to get her way. As far as listening to people she's a little pushy and kind of leaps before she looks, not bothering to take the advice of people that might be able to help her out. She gets the same treatment in the remake as she does here, but the special effect go way overboard.
2. Augustus Gloop
Out of the truly bad kids Augustus is perhaps the most innocent since he's greatly enabled by his mother and just chows down whenever he feels like it. But he's also the least intelligent since anyone might think that leaning over a river made of chocolate is a bad idea. It's a little easier to feel sorry and perhaps show pity towards Augustus than it is anyone else in the story since he's just kind of dim and doesn't really think before he acts.
1. Charlie Bucket
If you thought anyone but Charlie could have taken this spot then I'm not sure what to say to you. Yes he was going to steal an everlasting gobstopper from Wonka but he had a change of heart, deciding that he couldn't do it. In doing so he passed the test by proving that he could be loyal and very trustworthy, which makes him the best kid out of the bunch.
Admittedly, some kids that don't have much know how to value their word more than those that have everything.