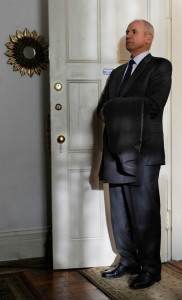 It's spy vs. spy this week as another former LOST actor (Alan Dale) tangles with our leading twosome, playing an ex-Stasi agent back from a twenty-four year absence where he was secretly imprisoned following the fall of the Berlin wall and his wife's tragic death. Befitting the presence of another actor from Michael Emerson's former show popping up at this week's POI, we also get the return of the flashback narrative device as we are given another glimpse into Mr. Reese's ever-mysterious CIA past. All that and Jim Caviezel gets to fire off another big freakin'gun–worth the sight just for how Finch's eyes bugged out at both the sight of it and the fact that he had to guide his trajectory for it.
Following the last new outing of the show, this one was less high-stakes action and more along the lines of, let's use up all the '˜ex-spy on a revenge trail'plot points we can in a single hour. 'Foe'covered everything from tracking down the old team members who betrayed Ulrich Kohl, the dead wife not really being dead and of course the surprise revelation that Kohl has a daughter and never knew it until now. On top of that we had Reese being lectured by Kohl about the pitfalls of being the kind of men they are. All the usual stuff about how certain men are soldiers and they bring death to all those around them. Standard spy lifestyle tidbits being doled out, but there was the added benefit of having Kohl give Reese a very excruciating biology lesson as he tortured him throughout this little advice-giving moment. It was nice seeing Reese truly get one-upped as it doesn't happen very frequently.
Regarding the flashback, we have Reese before he was Reese apparently, being trained by his handler, a lethal lady only called Stanton. Again, for the plot itself these scenes didn't bring much to the table, but they certainly drove home what Kohl in the present was trying to tell Reese. Having friends or family doesn't work out in their line of work, and it's best to not bother with either. Lest they betray you and leave you for dead in some secret prison for two decades. It felt like the show was sort of nudging at the idea that perhaps one day after working together, Finch and Reese will find themselves on opposing sides. We saw a hint of this possibility of friction between the two following the failure to stop Elias last week but this week it was back to their usual antics so I'm curious to see what future conflicts their relationship will have to endure–if it can.
Taking a complete aside from Person of Interest itself, it gave me a great amount of fannish joy to see Alan Dale and Michael Emerson in the same scene again. Brought back some of the best LOST memories and it was almost like Widmore and Ben's rivalry has just kept on going. Seriously, pitching people this show as a sometimes procedural with great actors, fantastic action sequences and a mini-LOST reunion every other episode–not a bad way to go about it. While this wasn't quite as exciting of an episode as perhaps the one before it, it still had its moments despite the cliché plot-points. I do hope that the next time we do get a flashback though, it's for Mr. Finch. I could watch a whole hour on that character's complex background, easily.