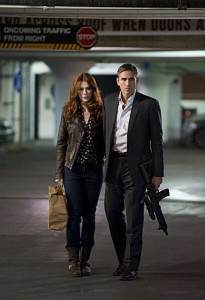 One of the disadvantages of the machine is that it's entirely unpredictable. This week's Person of Interest resulted in not one, but four numbers being given out all at once as Reese and Finch race to figure out why those four people were chosen before time is up for all of them. Over at the police precinct, Det. Carter has to deal with the aftermath of being last week's number from the machine as internal affairs starts snooping around to figure out the exact nature of the interactions between Carter and her '˜special forces man in the suit.'
As Person of Interest unfolds during its first season, it's continued to impress with how they lay out their story each week, and how they manage to use the procedural elements to push the overall arc forward. With '˜Number Crunch'especially the creators of the series kept the intrigue going as during the POI, or rather POI's, of the week segments there was a good amount of mystery built with the use of repeated bits of surveillance footage of a car crash. Slowly the pieces are put together that a congressman's son, coked-out and in a hurry to get out of the country, flipped his car in the middle of the road. The crash was found by four people and it turns out about a million dollars as well which was divided up between them all.
This turned into something of a morality tale as, by the end of it the two people who used the money selfishly i.e. purchasing Jimmy Choo shoes and a Ducati motorcycle respectively, died once they were hunted down by the bad guys. But the remaining two women, a devoted daughter and her foster-sister, who wished to use their cut in order to save their ailing mother's house from foreclosure got to live. One of the deaths, the Ducati guy, happened right before Finch's eyes and there was nothing he could do to stop it; something that wasn't supposed to happen anymore after he decided to start using the machine for prevention.
The look of horror on Michael Emerson's face as Finch was forced to see another person die because he couldn't predict an outcome displayed a glimpse at the real Finch under his usual calm façade. Harold Finch is a man who's gone through serious tragedy and carries around a lot of guilt with him–as to the exact nature of why he feels this way we're not yet sure. There was a slight clue when earlier on in the episode Reese was looking around Finch's place only to find a photo fall out of a book (a copy of Ghost in the Machine, well done props department) of two men smiling together. It's probably Finch and his former business partner back in the days before everything fell apart. I'm a little surprised we haven't yet gotten more of those flashbacks yet, but with everything else on our plate story-wise it might not be a bad idea to wait on telling that story.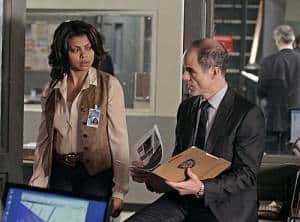 As the pieces of the POI cases came together it also brought Carter back into contact with Reese after he saved her life last week. However, Reese isn't aware that Carter's been visited by some supposed old friends of John's in the form of some agents he once worked alongside. They tell Carter that John killed his handler and then vanished, only to show up in NYC in the form of the fingerprints Carter collected at the scene of one of Reese's first dealings. If anyone's ever seen any sort of disgraced agent whose presumed dead entertainment, The Bourne Identity or other media with that general theme to it, then it's clear that Reese is being targeted by the agents looking for him. I guess Carter doesn't get out to the movies much. Agent Snow blind-sided Reese thanks to his partner's well-placed sniper bullet right to Reese's stomach. Finch only realized too late what was about to happen as he heard Carter place the call to the agent with information on where he was going to be after Reese contacted Carter. By the end of the episode Finch is doing everything he can to prevent another unnecessary death as he attempts to get Reese the medical attention he needs right as Carter gets the drop on both of them.
Finally, we've entered a world now where Carter is getting to be just as deep into this as Finch and Reese, and the show will be all the better for it I think. Carter knows Finch and Reese's faces now and it was made evident in this episode in particular, Finch and Reese can't undertake their endeavor very successfully all on their own. I'm sure Carter will still struggle with her sense of police duty, but it seems as though she might soon find herself as an outsider from her own precinct as well if the heat on her from her Reese connection is any indicator. That would be really amusing if, through everything, Carter gets ousted and joins up with Finch and Reese while notoriously shady cop Fusco stays on the force. At any rate it's going to be exciting to see where the story goes next as Reese may well be out of commission for a while but the machine itself never sleeps.