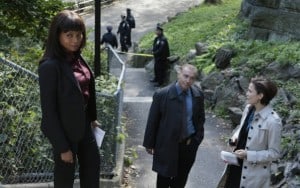 Finch and Reese try to keep an innocent cab driver safe from the Estonian mob when a mysterious laptop with information that could pose a threat to national security winds up in his cab one night. Meanwhile Det. Fusco gets pulled unwillingly back into HR dealings on this week's Person of Interest.
To kick things off, this episode featured a shady deal between a cab driver and his passenger. A man offers the driver five hundred dollars if he'll merely circle the block and come back for him but we all know that isn't going to end well. The next day there's a body on the ground and the cab driver, Cuban expat Fermin Ordonez, winds up being the next number from the Machine. We do the victim or perpetrator dance for a little bit until the story of Fermin becomes clear to Finch and Reese. When he was younger, Fermin was headed from Cuba straight to the Major Leagues until an injury sidelined him and forced him to make ends meet by driving a cab instead of being a star athlete. He was forced to leave his family behind and now he's attempting to earn money to grant his wife and son safe passage into the States. When the price of their entry into the country is unexpectedly raised to double the amount, a desperate Fermin sells the laptop left behind by said mystery passenger from the start of the episode to a friend of his that runs an electronics shop.
It turns out that the man who first possessed it, and wound up dead for it, was a top-level Russian hacker that had obtained access to an American Homeland Security program–should it have fallen into the wrong hands it would have proven to be a devastating blow to national security. So whenever a show does one of these types of stories there's certain beats that the plot follows along with and this episode was no different. We had the guy who the laptop was sold to, Fermin's friend Aziz, wind up dead. We had Finch arranging for Reese to meet with the man Aziz sold it to before he died and that going south the first time until Harold stepped and went in person. It wasn't the most edge of your seat episode of POI, but it got the job done. This was actually quite an episode for Harold in terms of his being out and involved in the action almost the entire time–it really suits Finch to get out of their HQ a little more often. Loved watching the efficient and calm way he handled the guy who had the laptop and was trying to sell it. I question whether or not 'D3mon8' is a better handle than his given name of Albert as they're both pretty lame, but Finch's handling of the man found the laptop back in the right hands just as Reese came in to clean up the mess when the Estonians tracked them all down. It's a good thing too, because it's been a little while (a week or two maybe) since Reese got to participate in a bar-fight.
You just knew as soon as Finch and Reese learned all about Fermin's story that they'd play a hand in making his American dream a reality. Thanks to a plan to leverage the laptop with the assistance of Secret Service Agent Vickers, (yet another LOST alum in guest star Reiko Aylesworth but I have a hard time thinking of her as anyone but her character in 24) Fermin's family was given safe passage to the country and were reunited at last.
All's well that ends well, right? Well that wasn't the only story this hour as Fusco was dragged back into the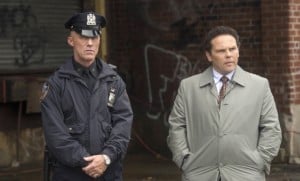 dealings of an ailing HR. They're not the super-power of corruption they once were, and so they try to earn their way back into Elias's good graces by offing the remaining head of one of the city's major crime families–Luciano Grifoni currently safe in witness protection. There's a double-cross at the scene of the hit and Fusco gets out alive so he can give a message back to Simmons that Elias is no longer interested in working with HR. I'm also no longer interested in this storyline so it works out just fine. Just as HR is struggling to find new relevance in the current New York crime underworld, this story is struggling to find relevance in the world of POI season two. The one good thing that came out of these events is that Fusco may finally get a good storyline for himself now that Simmons is letting the skeletons of his corrupt cop past see the light of day by offering up an anonymous tip to Det. Carter regarding the disappearance of an internal affairs officer. Let's hope that next week centers more on Fusco's upcoming troubles as a result of turning his back on Simmons and HR as a whole because otherwise it was a storyline that really didn't need to be included in tonight's episode.