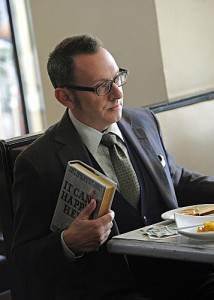 On paper, the idea of a machine spitting out data to begin each week's new Person of Interest could have turned out to be a somewhat limited premise. So far, the show has done a fine job of trying to mix it up story-wise with what each new number from the machine leads Reese and Finch toward doing. In the latest episode, the machine puts the pair onto a judge named Samuel Gates when his social security number is pulled.
What sets this episode apart from previous efforts would be that all of the elements of the show so far: Detective Carter's hunt for the man in the suit, Reese and Finch's growing partnership, and the POI of the week were all given enough time to not take away from the overall effect of any other given piece of the Person of Interest puzzle. Speaking of puzzle, one thing that I was glad we didn't get–at least for this episode–would be the flashback sequences that have popped up a few times so far in this first season. While they're certainly an intriguing extra feature of the series, when you have a strong story and compelling POI, having an extra bit of plot baggage would have detracted from all of that. This week we were given enough exposition and time with the character that it was easier to form the necessary connection to care about Reese and Finch being able to succeed.
At first it was a cut and dry kidnapping case as Samuel's son was taken by your standard television trope-worthy thugs of vague European descent. As the story unfolded, it became more complicated than that as the group had no desire for ransom, instead they needed Judge Gates to release an associate of theirs who was helping them in a massive money laundering endeavor. One had to figure that the seemingly random first scene that consisted of surveillance footage of a car slamming into someone in a parking garage would figure eventually into the plot. But the way that the true intent of the kidnappers was carefully revealed kept the questions going on for long enough that the plot wasn't immediately laid out, unlike in some other episodes when the POI case is quite easy to figure.
Personally I might just be a little bit biased in thinking that Judge Gates was far and away more interesting than last week's POI. He was portrayed by David Costabile who remained a highlight of the most recent season of Breaking Bad, as chemist Gale Boetticher, despite the fact that his character was dead throughout all of it. I wouldn't mind seeing Judge Gates pop up in a future episode of the series to repay the favor to Reese or Finch when the time inevitably comes that one of them gets busted and hauled in. To that end, the Fusco scenes with Detective Carter wove into the main story much better than last week, especially with Reese providing the criminals of the hour nice and gift-wrapped for Carter to haul in. If she's really the sharp cop that she seems, than she won't believe Fusco's stories for long and she'll figure out that he's working with the man she's seeking.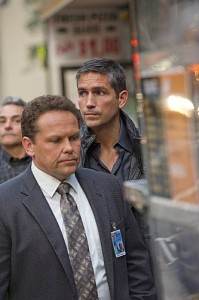 There was this fairly melodramatic promo for this episode that played during the week and I just can't figure out why the network feels the need to promote this show as something inspirational and its leads as heroic saviors. Sure, they have the capacity with Finch's technology and Reese's many lethal skills to save lives, but I wonder if people who tune in out of curiosity are surprised by just how much fun the show has with how violent it is. The action sequences with Reese especially have a certain '˜Bourne'feel to them where every punch thrown or dodged move crackles with a kinetic energy that bursts from the screen. Also, not that many heroes lock two thugs in the trunk of a car, give one a knife and ask if they've ever seen two cats in a bag before they request their boss's name and slam the trunk shut again.
If I had to pick my favorite moments from the episode, it surprisingly wouldn't be Reese's interrogation methods or Finch posing as a an IT man in order to hack for information, (even though his incredibly snippy takedown of the confused guy whose job it actually was, shows again how Michael Emerson has added shades of humor to what, again, the ads make seem as a more cold and distant character.) Instead, it would be the scenes between Reese and Finch at what Reese presumes to be a regularly frequented diner by Mr. Finch. The second one in particular had a nice level of optimism about their partnership as well as Reese going so far as to thank Finch for giving him this '˜job'in the first place.
What makes the show truly worth tuning into in the first place is not only the interplay between these two characters, but seeing how their partnership will ultimately attempt to heal two damaged men. I do look forward to exploring their back-stories again when the POI isn't the focus of the episode. There are still questions to be answered about both men and I'm excited to see how the season continues to disseminate this information as we go along on their journey to something resembling their personal redemption. Huh, I guess maybe those sappy ads aren't too far off-base after all.