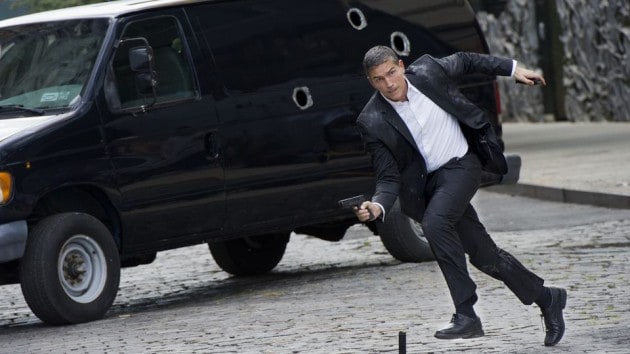 In a perfect world this review would just an image of a giant thumbs-up and we'd all go home. Person of Interest is running on all cylinders and if you watch the show you don't need me to tell you that. But I am glad to be here because I get to jump up and down and jazz my metaphorical hands because this show gets me so fired up. But I do have a job to do, so stick around.
If you read my Supernatural review (going up at the same time as this one, I believe), you'll hear me talk about the importance of character moments in any sort of artistic work. They are what make or break a piece of television; of that I believe 100%. Jesse and Walt's conversation about Ice Road Truckers or Jesse's screams of magnets and science are perfect examples of what I was talking about: they both reinforce and reveal depths of these people we spend years watching.
Person of Interest does as good a job at this sort of thing as anyone. When Shaw laughs at Walter's knowledge of John's fake cop-ness, it's a really touching and funny moment; she knows John Reese well enough to be able to bust his chops, and he knows Sameen Shaw well enough to take it as a joke. How many people do you have a relationship like that, and how many of them are not good friends or family. One action, one laugh, one image of Shaw hunt-and-pecking away at a keyboard says everything. I feel like I know Shaw, and Reese, Root, and Fusco; I feel like I know Harold Finch and I felt like I knew Joss Carter (we miss you Taraji P. Henson). For all aspiring artists out there: it's always about the people. Always.
(One more: Shaw's shake of the head and then nervous "maybe" as she's talking to Finch is literally perfect. I just loved it. I actually giggled. But I digress.)
Another thing you might have noticed me talk about is creating non-throwaway characters to populate your work. There is nothing worse than introducing a character to move along the plot and then tossing them away when the need has been fulfilled. Person of Interest could've easily used Elias a quick-fix crime lord; they could have easily turned him into a stereotype and removed him quickly. But he's still here, and we've learned more and more about him in our own good time. He is now a player on a very, very large scale; he knows about Samaritan, and he knows about The Brotherhood. Elias ostensibly interfered in Dominic's business because he wants to keep the balance of power but also, I think, for a deeper reason; he's stocking an arsenal for the inevitable moment when the time for an uprising against Samaritan is necessary. We believe this things (or speculate, if you wanna be hella lame) about Elias because he's been around for s long. Our knowledge of him and our familiarity with him allows us to have a deeper connection/appreciation for Elias and his motives.
You don't get that in one episode, or five; it takes time. Maybe the greatest compliment I can give Person of Interest is that it almost always takes its time, the Carter-Reese romance being an obvious exception. The show likes to seed things, and it's definitely doing that with Harold Finch. He's already told Elias about Samaritan (and obviously told him to keep that information from John and the rest of the crew) and his subterfuge with the Elizabeth Bridges speaks to a much longer con. He targeted her because he knew Samaritan would be interested in her, but he doesn't tell the team. Finch is putting a plan into motion that he doesn't want John or Shaw involved in, using both Elias and Bridges to get at Samaritan. Root didn't make an appearance in this episode, but I have to imagine she's in the dark as well; The Machine isn't able to talk to her like they want and it seems that whatever Finch has in store is his work alone.
Speaking of Root, I missed her this episode. Amy Acker always raises the bar whenever she's on screen. She'll be back soon, I'm sure. But, yeah, that's all I got. Praise to the Person of Interest writing staff, cast, and crew for another wonderful episode. Here's to 16 more just like it.
Grade: A
Photo via CBS