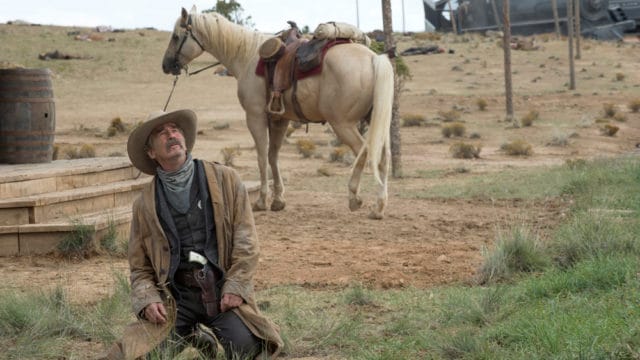 Godless is a western that was released on November 22 on Netflix. In total, the limited series consists of seven episodes, which are centered around the bitter rivalry between the ex-outlaw Roy Goode and his one-time partner Frank Griffin. Said relationship is complicated by the fact that the former saw the latter as a paternal figure of sorts, having been raised by said individual when he was orphaned as a child. Such was the state of things until Roy became disgusted with what Griffin was doing, thus resulting in their current state of hostility.
Besides the bitter rivalry between Roy and Griffin, there is the setting, which is a small town called La Belle. In a lot of respects, La Belle is much the same as its counterparts that show up in other westerns, but it stands out because women make up a much bigger proportion of its population than men. Something that can be attributed to a terrible mining accident that killed most of the men who were living there. As a result, there is a rather interesting cast of supporting characters striving to cope with their circumstances that can be found in Godless, which is helped by clever storytelling as well as sound writing.
What Have People Been Saying about Godless So Far?
For the most part, people seem to have responded well to Godless. In part, this is because it is a solid western in its own right, which must have come as welcome news to those who have been starved for new material in that particular genre. However, it should also be noted that the sheer number of female characters with important roles in the narrative makes it stand out compared to most other western, which could appeal to people who love the genre but have been dissatisfied with what they have seen so far. Unfortunately, there are some people who feel that Godless should have focused more on the people who populate La Belle, meaning that the reaction to the series is far from being wholly positive in nature.
To be fair, said sentiment is rather understandable because Godless is not just about the bitter rivalry between Roy and Griffin but also about what has been happening in La Belle, which has become an almost literal no man's land because of the mining accident. Simply put, while the town is being threatened by outlaws, it can also be said that it is being threatened by a mining company as well as its well-armed agents, which promises to restore the mine to a functional state and bring men back to the town. Opposed to this is the current leader of La Belle Mary Agnes, who is reluctant to let go of the economic independence that has landed in their laps, whereas the rest of the women have a much more complicated mix of thoughts and feelings about what is happening.
Regardless, whether people are interested in the bitter rivalry between Roy and Griffin or in the struggle over the future of La Belle, they should know that Godless boasts solid scripting and fine acting. As a result, it should be well-worth their spare time, particularly if they happen to be western fans looking for something new.