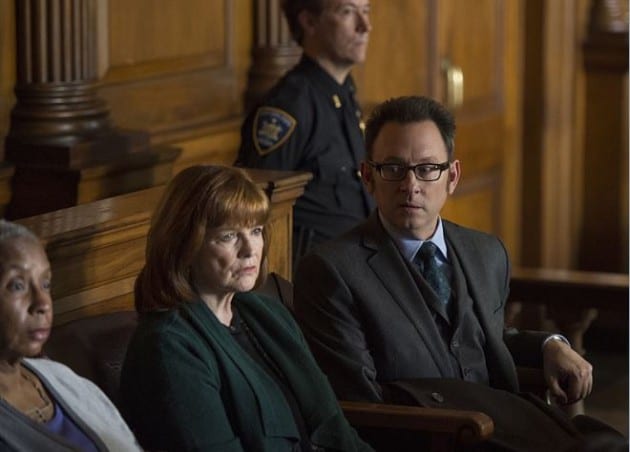 This was not a good episode of Person Of Interest. In fact, I'd say this is the worst I've seen the show do since season one. That season was full of the usual growing pains, and towards the middle of the second season, the show had really squashed those things out.
But this? This was just not good. The setups and payoffs were very lackluster, and there were many moments where you could see string being pulled in order to manipulate the episode in the direction the writers wanted it to go. The guy having his cell phone ring, and then he is automatically kicked off the jury (the judge's acting was especially bad; "You are held in contempt!") and replaced by Harold is really strange. Harold had already outed himself as a crazy person, obsessed with government surveillance; why was he the first alternate?
Also, they brought in Blair Brown to do basically nothing. They gave her this wisp of a part, and it was so transparent and just not engaging at all. Everything about this episode felt a full letter grade behind its usual episode floor. Even the return of Zoey couldn't liven things up; from the moment she started talking about "mirroring," things got more and more ridiculous.
I mean, really. When they learned about Emma being a mole, they decided to train Finch to rebut her arguments. They thought that she was there to help keep Chad Bryson out of jail, but the big reveal is that she is actually there to put him in. This is played like a huge shocker, but I mean, come on, really? An international spy, a cleaner for the powerful, and one of the smartest men in the world didn't even consider the idea that she might be working a different angle?
Also, the whole fixer bit makes no sense, either. If he so easily got to Emma, and so easily got himself on that jury, why didn't he go after more jurors? Why didn't he just seed the rest of the jury with his own people?
You might be saying, "But Hunter, he couldn't seed the jury with his own people. He only went after Emma after she was chosen for the jury pool!" Yes, true, but that doesn't explain how he managed to get a list of the jurors, blackmail one of them, and also get on the list as well after the fact. If he has the power to get on the list after the fact, he has the power to put anyone on that list that he wants, period. So, why all the hoopla?
Also, more problems: he gives her the note, tells her to calm Harold down, or he dies. Okay, sure. Fine. But then she goes out and rips up the note and tries to kill herself. He obviously knows about this; even if you buy the idea that he ascertained that Harold was working with the guy who broke into his little office space across from the courthouse, why would he believe that killing Harold would motivate her further? She already tried to kill herself! If Harold died, she'd probably tumble off the balcony soon after just to save people's lives.
I don't know, man. This episode had a lot of plot problems, which is unusual. The good stuff in this episode was mostly one-on-one character interactions; the scene in which Fusco tells Reese to shove it is really great, because Fusco has been marginalized, and he deserves better than that. The ending scene with Reese and Harold was also pretty poignant, and I enjoyed that as well.
Anyways.
Stray Thoughts
– I miss Amy Acker. This show is missing a lot of punch without her.
– Still not sold on Shaw being alive.
– The Machine really could've helped out this episode instead of just sending Harold on a a cryptic jury duty assignment.
– Lord, save me from the crap that is the scene between Reese and the fixer; that was such an audience-refresher play that it made me sick. "Why did you save me?" Really? You feel the need to point out the main plot resolution that blatantly, and you don't see that as a problem with the script????
– There's a little thing in the air between Reese and the psychiatrist. Seems interesting so far.
[Photo via CBS]