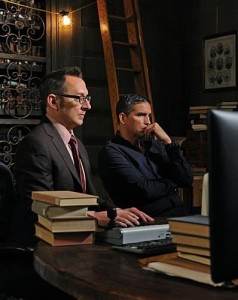 Sometimes one can't yet fix the mistakes of their own life so they take the initiative to try to do so for another. That's the case in the latest episode of Person of Interest as Reese and Finch both put themselves in harm's way to give a young man another chance at having a life despite what he's been pulled into. This episode also gave us the most substantial amount of screen time yet for Detective Carter as she finally made a brief connection with the man whose mysterious presence has become her growing fixation. It also provided us with the key sequences and stylistic choices that are becoming hallmarks for the series as a whole: Reese's social interactions tending to end in amusing violent outbursts, the quipping back and forth between Reese and Finch in-person and over surveillance equipment, as well as the flashbacks which this week focused solely on a moment from the past of Reese.
It's still too early to pass much judgment on Reese's character at this point, because we haven't been shown enough about his past yet except for the scenes with Jessica. Personally, I'm looking forward to seeing more of his special forces background as that will better inform just who he is. The way we're seeing him now is closer to being a bit more of an archetype than a fully rounded character. Albeit a very entertaining and capable archetype, who is more likely to end a tense stand-off with a complete stranger at a bar with a swift head-butt than he is to walk away. What Caviezel is capable of doing with little exposition to go on is pretty impressive work as he fully imbues his character with bursts of anger and simmering guilt that keep Reese intriguing and a little unpredictable to watch in any situation. But I have a feeling that with a better sense of the personal tragedy he's seemingly gone through, that it'll be easier to understand how he got to be the man he is today.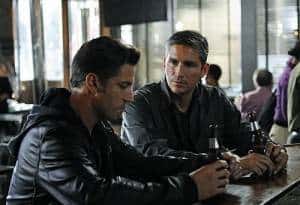 The 'person of interest' this week, Joey, gave Reese a chance to relate to someone else who on the surface shared similarities with him. Joey had also gone through a traumatic event and made some mistakes afterward. Specifically getting involved with a dangerous ring of armed robbers–soldiers all, as they perform one heist after another throughout the city. In order to understand the trouble Joey is in, Reese has to ingratiate himself into this group while Finch keeps an eye on him from afar. But the pleasant surprise of Finch's character has been the fact that as much time he spends away in a room acting as Reese's extra eyes and ears, he will also gladly enter the fray despite the danger involved. Loved the scene where Finch warned Reese, who was undercover in the guise of one of the armed robbers, about the impending doom awaiting the group of soldiers after they completed the heist. It showed not only his personal commitment to keeping this little endeavor running smoothly, but it also displayed that he's truly starting to care about maintaining Reese's well-being. That's getting to be a pretty close step to a new level of trust between them. Not to mention, it's alleviating my earlier fears upon first learning the premise of the show that Emerson's reclusive billionaire character would remain mostly in the shadows of the story.
One of the biggest developments in this outing would be the aforementioned contact Detective Carter makes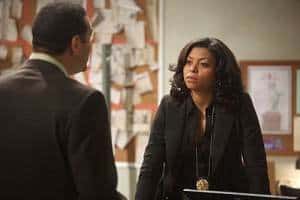 with Reese, (and she also walked right past Finch with zero idea that he's part of what's going on). Their scene where Det. Carter and Reese communicated over a hand-held comm set was a nice hint as to what's to come for these two as. Currently, Carter is the closest thing the series has for a regular force of opposition. She was even featured plot-wise right alongside Finch and Reese throughout the episode which is going to be necessary to continue as the series proceeds in order to establish Det. Carter as an essential character. Even when/if she realizes the purpose of what Finch and Reese are ultimately doing, I doubt she'll immediately go toward seeing things from their perspective. She seems to be pretty firm in her beliefs against some random vigilante taking to the streets, at least for now.
Even if he can turn a life around as Reese wound up being able to do for Joey and his girlfriend. John clearly has regrets about how he handled his own situation in the past, but hopefully the Jessica flashbacks will contribute to the show's mythology that's quietly being built in the background. On their own, those scenes fall a bit flat compared to Finch's flashback sequences from last week. It's refreshing to have a strong 'case of the week' style drama that's slowly putting itself together to have a deeper story emerging from the background with each glimpse into the past along with clues found in the present. And that's why Person of Interest is turning into something that's become very rewarding to watch as it unfolds a little more each week.