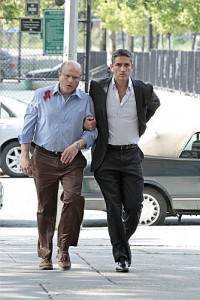 We've all been in the middle of something important and lo and behold, we're without our cell phone. Maybe it got lost, or maybe something happened to it but to be without this basic convenience is never a good situation to find oneself in. Few of us have likely found the situation to be so life or death as our anti-hero John Reese as he deals with being cut off from Finch's communication guidance while trying to get a witness safely away from a group of Russian mobsters. Soon they find themselves holed up in a grimy slum-tastic housing project as Reese tries to get this week's POI out of the line of fire and into (eventually) a courtroom to testify as the sole witness of the execution of a former Cosa Nostra lieutenant.
As usual, Detective Carter and Detective Fusco are hot on Reese and the POI's trail which serves to pull them both into the mob war brewing in the city. We also get mention of the figure known only as Elias as the person behind a plot to join the five families and remove the Russian mob from the city, starting with Brighton Beach. This show didn't need to do anything else to get me on its side. But throw in the concept of a full-on mob war between the Italians and the Russians and you better believe that I'm all for it. The Elias story is definitely a good thing for the show as it's one of the few threads keeping Carter and Fusco from being completely adrift from Reese and Finch as elements of the Elias mystery can be found in both sides of the episode's story.
Speaking of Fusco, he finally got to meet the man behind the curtain, or in this case, the man on the other end of the phone as Finch sought him out to not only find the missing Reese and the witness, but also to help him with the case before anyone else can get hurt. I suppose you can't blame a guy for trying, but I rolled my eyes at Fusco as well whenever he tried to probe Finch for the truth behind their little operation. Yeah, if Reese can't get anything much out of him than you're not going to either detective. Even though Finch was all-business during the scene, it was very clear that his tense demeanor translated into growing worry for John Reese's well-being; after all if anything happens to Reese while he's out doing these tasks for Finch then it's definitely going to be added guilt for him to bear.
Reese and Charles Burton are holed up in the abandoned apartment as the wounded Charles does his best to get some exposition out of Reese. Again, you can't fault him for trying, but currently he and Finch both have no interest in being anything other than closed books both to other characters and the audience as well. That's fine for the time being, all back-story will have its place eventually I'm sure. As Reese goes about using some unconventional methods for dealing with Burton's wound (he's nothing if not resourceful in a Michael Westen without the voice-over explanations sort of way), the thugs on the outside of the apartment building make a deal with the thugs on the inside. Ah, there is nothing like the sight of two groups of people who hate each other coming together over the fact that they both want the same people dead. Warms my heart.
Back in the apartment, Reese and Burton make their move to leave their hiding place when Mr. Burton runs into a current student who offers to help them. Conveniently he gives them the necessary info to get out of the building in one piece now that the Russians are hunting them down inside its walls. The exchange between student and teacher could have been cheesy if it weren't for the natural ease and charisma that Enrico Colantoni has brought to this week's POI. It continues to be a guest-star extravaganza on this show as Whedonverse alum Enver Gjokai also pops as one of the Russian bad guys this week. Insert the standard '˜seriously, why isn't this guy fighting off job offers with a stick'that comes with most anyone who's worked on a Whedon production here. You'll get nothing different from me; he brought real presence to what could have been your typical thug role, as his Lazlo wound up getting caught by Reese and used to help he and Burton escape.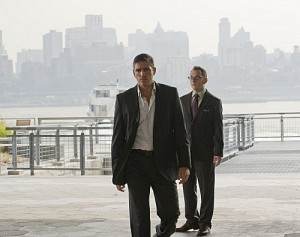 Escape they do, off on a ferry to get Mr. Burton to the safety of a police station. Then it all falls down spectacularly as the audience gets something of a quasi-Keyser Soze pulled on them as it turns out that no, it's not the cop that Finch was investigating as that turned out to be something of a red herring although he is involved still–Burton himself is Elias in the flesh. He uses the gun John gave him earlier on to blast poor Lazlo's kneecap as a message for his father, the head of the Russian mob presence in Brighton Beach at least, to tell him to leave the city. Now this is what I'm talking about, we weren't bogged down with the sometimes tedious procedural elements of this show, oh no, we were treated to the beginning of an ongoing thread for Person of Interest. An exciting tale of a man who wants to own the city and the two men who accidentally let it happen. I cannot wait for Reese and Finch to get another chance at Elias now that they know who he is.
Again, I can't stress enough how perfect Colantoni was in the role as he had to transform from this seemingly meek nice guy to a ruthless manipulating crime boss in the making. This episode set a new standard for the freshman series, and I'm pleased that at times it's becoming less of the procedural and more of a very solid crime drama that doesn't always have a simple happy ending. It makes for compelling television and this is the first time that I'm simply downright anxious for next week's episode. Which, with all my luck, will be the most by-the-numbers one in the show's run. But here's hoping that the next chapter of the Elias story is told sooner rather than later. It woke the show right up.