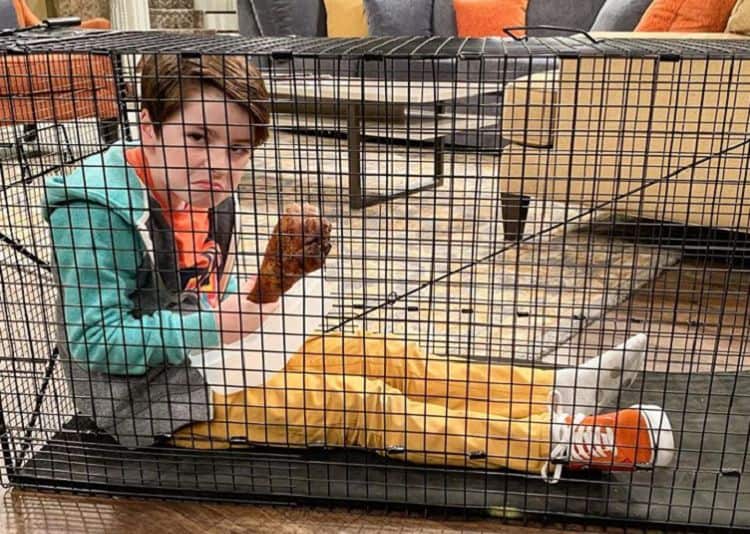 Paxton Booth is an American child actor who is best known for his role as Ollie Wrather on Coop and Cami Ask The World. He has also appeared in Brooklyn Nine Nine and The Romanoffs. Here are ten things about him that you may not know.
1. He Was Born In California
Paxton was born in California and he still lives in Ventura with his parents. This is the ideal location for pursuing his acting career as many of the programs he has starred in are filmed in Los Angeles which is just a short distance away. The house that he lives in with his parents is over one hundred years old and it is a place that is special to all of them.
2. He Started Acting At The Age Of Two
He started acting when he was only two and a half years old. His career began with appearances in several commercials. Several of the commercials that he starred in were broadcast nationally. He has always been very talkative and being in front of the camera has never bothered him. He does not let his fame go to his head and his parents work hard to give him as much of a normal life as possible.
3. He Was A Judge On The Toy Box
When he was seven years old he appeared as a judge on The Toy Box. This was a show similar to Shark Tank where designers shared their ideas for new toys. The toys that went on to win the competition were produced and sold by Toys R Us. The show was never officially canceled, but Toys R Us went out of business in 2018 and so it was never renewed for a third season. It is possible that he may have been asked to be a judge on this season but this is something that we will never know.
4. He Collects Hot Wheels Cars
One of his hobbies is collecting Hot Wheels Cars. He told the LA Times that his interest in the cars began when his grandmother gave him a set that used to belong to his father. He has over a thousand cars and he is confident that he knows where each of them are in his bedroom. He likes to make up stories about his cars and he feels as if they all have different personalities. He can't wait to be old enough to drive his own car, but he also thinks that he will always be collecting Hot Wheels.
5. He Enjoys Performing Stunts On His BMX
He enjoys spending time outdoors on his BMX and this includes performing stunts. He is quite lucky that there is a lot of open space near where he lives. His father used to be an editor for a BMX magazine and so there are a lot of tricks that he can learn from his dad. He also enjoys skateboarding but if he did have to choose then BMX is his favorite. When he is filming Coop and Cami, there can be quite a lot of waiting around without doing much. This is why he likes to remain as active as he can when he is not working.
6. His Favorite Food Is Pancakes
One of his favorite things to eat is pancakes. On his Instagram page he often posts photos of him eating pancakes under the #pancakeswithPaxton hashtag. In one of his posts he jokes that he is considering a new career as a professional pancake taster. Although some of the photos he posts are taken in restaurants, the majority of them seem to be taken at home. This is another example of the fact that Paxton and his family love to spend time together.
7. He Has A Dog Named Ripley
Another fact that he has revealed on his Instagram account is that he has a puppy called Ripley. She was adopted from an animal shelter and he also used the post to make an appeal for people to always consider adopting from a shelter when they are getting a new pet. Fans that follow him on Instagram can probably expect to see many more photos of Paxton and Ripley together in the coming months.
8. He Is Quite Similar To The Character Of Ollie
He has said that his own personality is quite similar to that of Ollie. They are both quite adventurous and sporty. In an interview with Tiger Beat he also said that they were both very close to their families. He does all his own stunts when filming Coop and Cami and he does consider himself to be quite daring. He has said that he would definitely be up for trying out all the stuff that Ollie does in real life.
9. He Supports Animal Rescue Charities
He is a keen supporter of several charities that are involved in animal rescue. Animal rescue is a cause that is very close to his heart, and so he likes to help out in any way that he can. According to Afterbuzz this passion comes from the fact the he grew up with two rescue dogs. He often uses his social media accounts to post about dogs that are in need of adoption. He is not the only celebrity that does this, but he can reach a lot of young people and so his posts really help to spread the word about how just many dogs there are in shelters that are waiting to be adopted.
10. He Enjoys Reading Mystery Novels
He is also a keen reader, and mystery novels are his favorite. He is a particular fan of the Goosebumps series but enjoys any book where you can really lose yourself in the story. He often posts photos of himself on Instagram with the latest book that he is reading. This also encourages fans of his to read more as they tend to follow his recommendations. He is also a big fan of comic books and again mystery stories such as Scooby Doo tend to be his favorites.