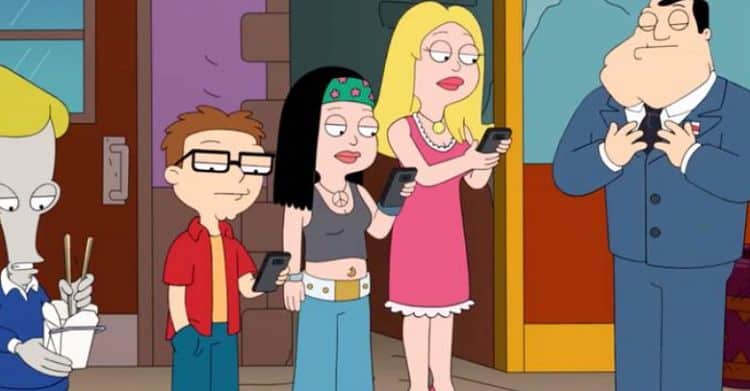 Saying what we learned about an American Dad! trailer is like asking people what life lessons they learned from watching the Three Stooges (the Curly years of course). But all in all the show has been running for a lot longer than some people would have thought it would since for the most part it wasn't nearly as well-received as it could have been when it first premiered. Since then however it's been gaining ground as the plot has changed and the family has continued to push onward with the many different plot twists that have come along throughout the years. Seth MacFarlane has definitely helped to keep it going quite a bit and the guest voices that have come along to help out have done their part as well in keeping this show on the air for longer than some people figure it should have been. One key component to American Dad! thought has almost always been that it exists in the same universe as Family Guy, but isn't always bound to run into the same characters. That way people don't have to transition too much from one to the other when trying to decide which one to watch. It's true that American Dad! isn't fully on par with Family Guy in terms of popularity but a lot of people still love the show and tend to gravitate towards it if Family Guy isn't on at the moment.
American Dad! is definitely a show that has been helped along by Family Guy but has been struggling to find and keep its own identity for some time now since it's never really gained the same footing as the other show despite the fact that it aims at delivering the same amount of hilarity to those that are willing to give it a shot. Stan, the upright father figure that is pretty much opposite of Peter Griffin in many ways, is the kind of guy you tend to wonder should be packing a loaded firearm while at the same time can't help but feel for since he usually is trying to do right by his family. If there's any one character in the show that people are continually amused by but can't stand all the same though it's Roger, who by all rights should be the most well-kept secret of the bunch and yet can't help but pop his head out time and time again in order to be a part of the story in a very obtrusive manner at times.
Much like other animated series this show has changed along with the times as you can see in the trailer since any time a conversation is taking too long, usually past a few seconds, the idea is that a lot of people will pull out their phones, tablets, or other devices and seek to drown out the world around them with something else that offers continual and constant stimulation. Of course when Stan's talking and gets on a rant that might be seen as more of a defense mechanism against intense and nauseating boredom that comes from hearing his grandstanding tales so often. One can only imagine what it's like when he really gets going and it's not so spur of the moment, but as one can see, American Dad! is up on the trends and the constant change in societal attitudes when it comes to depicting what people are like and how they react to certain stimuli. As it's been seen this is an important way to keep fans interested and keep them coming back for more since it's not bound to remain such a dated concept. Whether American Dad! will ever attain the same kind of notoriety as Family Guy is kind of hard to say, but the predictions don't look all that good since it's never been much more than a spinoff in the eyes of many despite the fact that it is pretty funny and it does manage to come up with its own material most times. The whole CIA angle is definitely different and opens up new vistas for the show, but at the same time it's easy to see that Family Guy will continue to top it for various reasons.
Still, the show has managed to gain quite the fan base throughout the years and there's a good reason why it's been going strong for so long, so it's fair to state that it should be able to keep on entertaining the people in a big way as more and more seasons roll out and the plot continues to change and twist in ways that people might not fully expect. As an animated series it does help to break up the monotony every now and again and there are moments when it's just as funny as any other animated show.