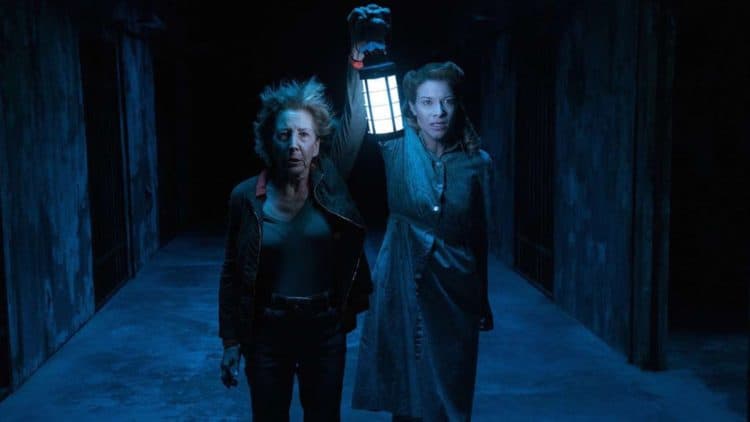 One kind of wonders just when the story is going to end or will outlast the players since Insidious is four movies in now and a fifth is likely going to start testing the desire of the fans to see any more since like it or not, the particular story that has been followed, more or less, since the first movie is now stretching out and taking a risk by sending Dalton to college. It does feel that experiencing otherworldly phenomena at college could be kind of interesting since it might raise a few questions and possibly create a decent story. With Patrick Wilson taking the helm of this next movie it could be the sign that the story will take a pretty intriguing turn since as one of the stars of the movies he has a very interesting take on it and could possibly see another direction that might serve as a slight deviation that might take the story and turn it in a way that people aren't expecting. With the way the story has gone at this point one can't help but think that sending Dalton off to college isn't any safer than sending a person with a high fever and no mask into an unsuspecting crowd. Yes, that was a pandemic analogy, and it feels pretty warranted at this time.
There is a nice consistency to the movies thankfully that stands as one reason that people are willing to keep watching since it doesn't attempt to pull too many tricks without showing that despite jumping back in time at some point it's still been keeping hold of the same story, but from a different perspective at times. The trick is going to be in keeping the story from becoming stale, old, and altogether dated. This hasn't been such an issue with the last few movies, but it's always a danger as things continue forward, since people might start to wonder when the story will end, or if it will, or if it will possibly be loaded onto a new set of shoulders that might not take as good care of it. Wilson might be the right person since he's been with the story long enough, which could be why it's not easy to feel the same kind of trepidation about this as one might with another director trying to make a name for themselves. Some might wonder why more actors don't take on the director's position after a while, but one very big reason could be that it's a lot of responsibility, and they might grow tired of the franchise that they've already been in for so long. But with Wilson, it's very likely that since he's been on one side of the camera for a while it's bound to be appealing to see what happens when he gets to be on the other side for a movie that's helped to build his career in a big way.
One thing that is easy to argue is the idea that the Insidious movies could get a little worn out after a while unless they continue to take a different direction and possibly include more and more individuals that could have something to do with the main story in a very loose sense. Branching out can be an iffy proposition, as a continuation of sequels, since the thinner the story gets, the more it needs to be able to stand on its own. In this manner, it could be that Dalton going off to school on his own might be stretching the bond between Dalton and his parents in a way that could be detrimental to the story. But it's also likely that this distance will create more urgency and possibly even more uncertainty since Dalton's parents won't be there every single second to help out. Whatever happens, the distance becomes a huge impediment to the story in that it could stretch things too far, or it could be positive since it will increase the tension and therefore get people to wonder if there will be a decent ending this time around since the other movies have been left to a matter of opinion since from the first movie on they've been kind of less than upbeat at times.
It feels very safe to say that Insidious 5 will be another great addition to the lineup, which is odd for me to say since I'm not always optimistic about sequels. But with Patrick Wilson taking over it could be a way to get hold of a perspective that might have something that can bring a new spark to the next chapter and even heighten the story to some degree, even if some folks might not think it's possible. Like any sequel, this next chapter will carry a lot of pressure since it's going to have a lot to live up to, but it should work out.
Tell us what's wrong with this post? How could we improve it? :)
Let us improve this post!