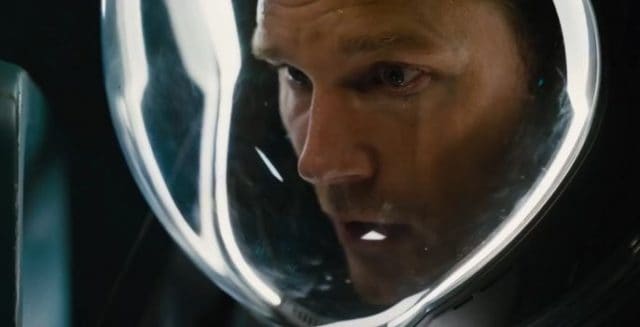 Even though up until today there had barely been any photos released from the upcoming sci-film Passengers, it already was one of the most highly anticipated movies of the year for a lot of film fans. Put movie stars like Chris Pratt and Jennifer Lawrence together in a sci-fi, romantic thriller, and you're going to get pretty much everyone somewhat interested in what's happening in your movie. However, although many people were already excited about Passengers, plenty more have to be jumping on the bandwagon now after the release of the film's first trailer, which not only showcases the movie's two stars and the romance between their characters but also the seeming overwhelming challenge they must face together.
In Passengers, Pratt and Lawrence play two passengers onboard a spaceship set to arrive at a new planet in over 100 years time. However, when the two of them both wake up from hibernation 90 years earlier than they're supposed to, they must figure out how to live their lives knowing that they'll never arrive at their destination and that, more likely than not, neither of them will ever see another person aside from each other again. If you want more information on Passengers, here's the official synopsis of the film:
Jennifer Lawrence and Chris Pratt are two passengers onboard a spaceship transporting them to a new life on another planet. The trip takes a deadly turn when their hibernation pods mysteriously wake them 90 years before they reach their destination. As Jim and Aurora try to unravel the mystery behind the malfunction, they begin to fall for each other, unable to deny their intense attraction… only to be threatened by the imminent collapse of the ship and the discovery of the truth behind why they woke up.
In addition to Pratt and Lawrence, Passengers also stars Michael Sheen, Laurence Fishburne, and Andy Garcia. The film comes from comes from Sony Pictures. It is directed by Morten Tyldum, who helmed the Oscar-nominated The Imitation Game, and was written by Jon Spaihts (Prometheus, Marvel's upcoming Doctor Strange).
Passengers hits theaters on December 21. Watch the official trailer below: