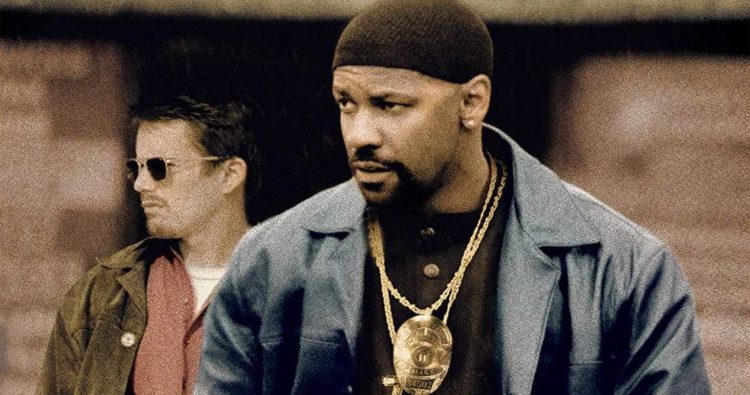 In cinema, some of the best films on the market happen to revolve around police officers and their daily lives. Whether it's a twisted tale of an undercover cop and a mole within the precinct (The Departed), a veteran escorting a rookie on his first day through the tough inner-city streets of Los Angeles (Training Day), or the first African-American detective in the Colorado Springs Police Department trying to take down the Ku Klux Klan (Blackkklansman), there's no shortage of cop movies, especially in the drama department. Notably, that has dramatically shifted as time passed by. Following the George Floyd incident in May 2020, there was an absolute disdain for police officers in all forms. In the wake of protests following the heinous crime, programs like Cops were canceled (then picked up on the Fox Nation network for a return in October 2021) and there were even calls for innocent shows like Paw Patrol to be removed from the air.
Even before the incident changed the world as we know it, cop dramas weren't exactly filling up the movie theaters every month. Unless they were some background noise in a random film or two, the world of cinema had to stop showcasing the world of police officers through a different lens, though the George Floyd situation likely halted most studios from greenlighting anything that spotlighted cops in any sort of light. Still, why exactly were cop dramas so rare in the world of movies? More often than not, they brought prestige when it came to awards season, and though they weren't exactly killing it at the box office like Marvel or DC films, they brought respectable business for their modest budget. It really all boils down to the subject not only being a lame duck at the moment but one that's been explored a thousand times when it comes to films.
Cop dramas have more of a presence in the world of television. The reason why there's more significance in the TV landscape is due to the fact that it allows television shows to explore the world of police officers in more depth. Had shows like The Shield or True Detective made their way as movies only, then the possibility of them becoming such an important piece of media would've been slim. This isn't saying that cop dramas fit the format of television much easier than movies. The attempted Training Day reboot quickly debunks that notion. However, circling back to the genre being explored in multiple ways, there's no shortage of cop dramas that hasn't been touched on throughout the history of cinema. Looking for a corrupt cop story? L.A. Confidential, Touch of Evil or Training Day are some of the may that got you covered. What about racial films that showcase police brutality? Queen & Slim, The Hate U Give, or Monsters and Men to name a few. What about private eye/detective films that turn into a twisty tale? Chinatown, The Maltese Falcon, and to a certain extent Seven. You get the idea at this point.
Now, Hollywood is notorious for banking on the familiar, as many executives believe that audiences would rather pay for something that they've seen before instead of original or out-of-the-box content. This is why there's so many remakes, sequels, and reboots. However, that term doesn't particularly work when it comes to cop dramas. If the audience figures out the pattern of said film then it wouldn't be engaging because the story beats are familiar. Cop dramas need an air of mystery to them in order to be good. The problem? Most of these end up being mediocre affairs that aren't exactly worth the price of admission. Imagine theaters being overcrowded with cop dramas yearly?
It would be the definition of overcrowded and while the same can be applied to the superhero genre, at the very least, there's different variations of characters and stories being told. Cop dramas wouldn't have that same luxury. At this point, cop dramas are mainly featured as Oscar hopefuls, though the reception regarding the men in black and blue isn't exactly a wanted thing in the mainstream at the moment. There's plenty of combinations on the reasoning cop dramas aren't exactly flooding theaters at the moment, but surprisingly, it barely has to do with box office returns. Unless it's a big budget actioner like Bad Boys or Die Hard, cop dramas are relatively mid to low range when comes to budget, thus studios aren't exactly sweating the notion that they won't get a return on their investment. The specialty genre will never die, but it's highly unlikely that an era of cop dramas will flood the market any time soon.Training Day
Tell us what's wrong with this post? How could we improve it? :)
Let us improve this post!