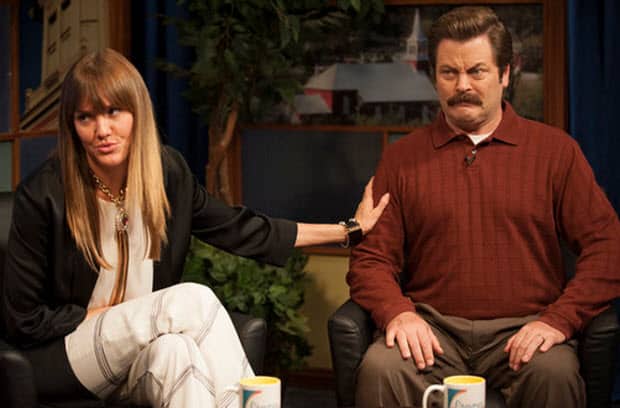 Due to the ineptitude of NBC and its scheduling decisions, Parks and Recreation finally returned from it hiatus last night with a double feature, back to back episodes entitled "Filibuster" and "Recall Vote," respectively. While both episodes were absolutely hilarious in their own rights (especially "Filibuster," which featured a brief but very welcomed return for Andy), the main accomplishment of this double dosage of Parks and Recreation was its ability to illustrate just how determined, committed, and thoughtful Leslie Knope is as a person and councilwoman by having her filibuster Jamm in order to save the rights of everyone in Pawnee (even the former Eagletonians who promised that they would not use their right to vote for Leslie but instead to elect their own councilperson); however, not even ten minutes after Leslie experienced the incredible high of momentarily defeating Jamm, Parks and Recreation took that feeling of accomplishment and pride away from Leslie, as she discovered that she had been recalled by the citizens of Pawnee. In 30 days, she will no longer be the city's councilwoman.
With all of the focus on Leslie's recall during this season of Parks and Rec, it would have felt like a cheat if the series had not gone down this dramatic route of Leslie losing the one thing in her life that she has fought so hard to achieve . Still, the feeling of sheer hopelessness and defeat that Leslie experienced during last night's episode was brutal because of its emotional honesty. Even though her drunken adventures to a pawn shop (which can apparently double as a tattoo parlor) with Ben proved to be extremely funny due to the comedic talents of Amy Poehler and Adam Scott, Leslie's pain was hard to watch but it was also good, character-driven dramatic territory for Parks and Rec to cover.
What is Leslie Knope without her place in government? Will she reclaim her position as head of the Parks department? Are there other places that Leslie can work or other projects that she can do without working at City Hall, especially after Ann's departure later this season? These are all very interesting questions that Parks and Recreation can explore moving forward, but until then (as Ann says in a great scene where she has Leslie read a letter that she wrote to her in case she lost, Ann doing her part on behalf of the Leslie Knope Emotional Support Task Force), I'll just be happy to see what Leslie and company will attempt to accomplish in her last 30 days in office.
While I initially had some lukewarm feelings towards Parks and Recreation at the start of this season, "Filibuster" and "Recall Vote" reminded me why I love this show so much. It's incredibly exciting to see that Parks and Rec (which has never shied away from taking risks and having its characters face the consequences of their actions before) is still willing to make these dramatic shifts in its narrative even in its sixth season, and this creative courage is definitely something that other series that have become stagnant and complacent in their later runs should admire and strive to emulate.
Other thoughts:
I will miss Tatiana Maslany's presence on Parks and Recreation moving forward because her performance as Nadia was so incredibly charming. Thankfully, the show left the door wide open for her return at some point later this season. Make it happen, Parks and Rec team. Please make it happen.
I really enjoyed both Ron Swanson plots tonight (specifically his frustration and then determination at beating the hunting game with Donna) because they felt very in-character for Ron but, unlike other similar Ron storylines this season, they did not do so at the expense of his new family life.
Ben's fixation on women in roller skates was great.
Was so happy to see Andy returning tonight and was also pleased that we were given insight into his struggles in London. Plus, Andy's character always brings out the sweeter and more thoughtful side of April, which while not as funny as her blasé detachment, is always a pleasant shift for her character.
"Every year we would dress up as demons and we would egg Larry's house." "That was you?" "Please, Larry, this is a private conversation." I love that Parks and Recreation is still having April, Leslie, and company call Jerry "Larry" now. It's a joke that could easily wear out its welcome, but the writing staff knows how to spread out its use over the course of an episode.
With Ingrid possibly taking Leslie's position, does this mean that we will get more guest appearances from Kristen Bell? If so, I'm totally for it. Just give her some funnier stuff to do, Parks and Recreation writers.
Really enjoyed a lot of the unique pairings in these episodes: Donna and Ron, Tom, Nadia, and Ann, and Chris and April. It's always nice to see different characters sharing stories with each other from week to week.
Just a quick reminder: Ron Swanson's laugh is the greatest thing to happen to this world. Ever.
"Just remember every time you look up at the moon, I too will be looking at a moon. Not the same moon, obviously, that's impossible."
"Ann, you poetic and noble land mermaid."
"I'm not a sore loser. It's just that I prefer to win, and when I don't, I get furious."
What did everyone else think about last night's episodes of Parks and Recreation?
[Photo via Colleen Hayes/NBC]