The smell of fresh fall air can only mean one thing. Parks and Recreation is back for another fun-filled year of wild office antics and crazy one liners. This year starts off right where last season ended with Leslie Knope being approached to run for office. Will this new opportunity for power, will Leslie (Amy Poehler) give up her relationship with Ben (Adam Scott) so she can fulfill her dream? And will Tom (Aziz Ansari) still be apart of the show even though he no longer works for Leslie? Continue on readers to find out.
The first thing that anyone would have noticed about this episode is that Tom is in very little of it. After starting an entertainment company with friend Jean Ralphio (Ben Schwartz), I knew that we would see little of Tom but even with the little we did see, Tom didn't fail. Granted he was only in two scenes, he stole the screen during those moments by giving away free swag for Entertainment 720 (I could definitely use one of those fireplace bellows myself) and trying to get Andy (Chris Pratt) to join his company, which in the end Andy has no idea what the company even does. I can only hope if the writers do use less of Tom that they fill his moments with great one liners and events we know Tom is good for.
The real meat of the story this week focused on Leslie, dealing with having to break up with Chris before she can announce her candidacy and Ann (Rashida Jones) dealing with every male in the government building emailing her their penis' so they can get medical analysis. While there was some funny moment from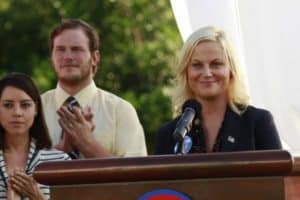 both, Ann's story seemed to outshine Leslie's. Yes, it is going to be great to see Leslie as she hilariously runs for office but, seeing timid Ann this week deal with all the men's photos was the higher point. Of course, this story was a hilarious parody of the Anthony Weiner controversy that happened a few months ago. I have to hand it to the writers for tackling such a recent current event for an episode.
On top of those two stories, there also were two minor side stories, both centering around my two favorite characters, Andy and Ron (Nick Offerman). The story of Andy trying to figure out what his dream is, was touched upon briefly but, in the end he was giving a great opportunity and accepted to be Leslie's campaign assistant. No doubt will this lead to hilarious moments down the road during Leslie's campaign run. On the other story, Ron (who was last seen escaping from the office) hid himself in a cabin to escape from his ex-wife, Tammy One (Patricia Clarkson). While we got little screen time from Ron, we did find out that Ron has less than ten, and possibly less than nine toes. We of course found this information out when Leslie visted Ron at his cabin and, he tells her in my favorite line of the night "I have the toes that I have". The delivery by Ron in this scene was so great that I couldn't help but laugh really hard. It was nice to see Ron return to the Parks Department, letting us know we won't miss Ron as much in the next episode.
With all that happened this episode, Parks and Recreation really has a lot going for it. I can't wait to see where the season goes. I just hope we get enough screen time for all the major players in the Parks and Recreation cast instead of tiny bits per episode. A-
So what did all of you think? Are you on board for the new season or think that this week showed that Parks and Recreation is running out of steam. Sound off in our comments section below.
Tell us what's wrong with this post? How could we improve it? :)
Let us improve this post!