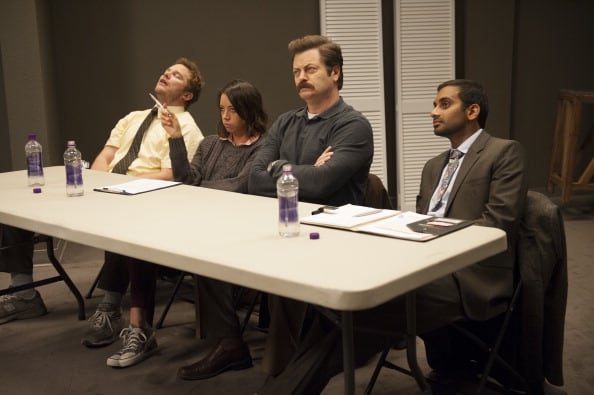 "New Beginnings," last night's episode of Parks and Recreation, was simply fine. But that's just it. Parks and Rec is never usually just "fine." After last week's big 100th episode, it should be expected that this week's Parks and Rec would be a little bit of a letdown. However, for the first time in a long time, I found myself not nearly as invested in Leslie Knope and the characters of Pawnee as I have been in the past.
Perhaps this is because it feels like the series is stuck at a standstill. As acknowledged by Ron and Leslie in tonight's episode, characters like Tom and April have grown up and finally assumed the responsibility within the Parks Department that Leslie had always hoped they would. While this character evolution for both Tom and April is something that has transpired over the past five plus seasons, and is thus very satisfying to witness, it always leaves Parks and Recreation with a big problem: How can the show itself change and evolve along with its characters?
"New Beginnings," despite what the title suggests, finds Parks and Rec repeating the same typical motions over again, with Leslie now returning to lead the Parks Department again in her passionate, almost too overly enthusiastic manner. Except now, in the past year and a half while she has been a member of city council, the people that she used to instruct and encourage no longer need that extra push.
Leslie Knope finally has the dedicated, hardworking Parks team that she has always wanted, but in getting what she had desired for so long, she herself has now become the issue. She's now floating around the Parks Department without ever really feeling like she truly belongs, like a college freshman returning back to his high school for the first time. Leslie's simply stuck in a holding pattern until the next big (professional or personal) change occurs in her life, and frankly, until that next big event does transpire, whether it is the departure of Ann and Chris or something else entirely, Parks and Rec, just like Leslie will be nothing more than an old high school alumnus, strolling along the same familiar hallways, entering old classrooms, and saying "hi" to favorite teachers with only memories to share and nothing new or original to offer.
Other thoughts:
– I'm realizing now that my criticism may appear a little dramatic and make it seem like I didn't enjoy this episode of Parks and Rec, but there was a lot that I really did enjoy. I thought the pranking storyline with Ben, April, Andy, and Donna was great and really showed Adam Scott's comedic chops. Also, Ben's city manager now! That's a big change, that holds promise for character evolution. Let's see some more changes like that, Parks and Rec!
– While I will definitely be sad to see them go, I really have not been enjoying the Chris and Ann storylines over the past couple of episodes. The two of them feel so separated from the rest of the cast, and since we only have such a limited of time left with them, I would love to see these two characters interacting with the rest of the cast instead of just each other. Although, their proposal scene in front of Larry, as he choked on not just one, but two crackers, was hysterical.
– "That was a fantastic season finale. For a show that is literally a never-ending emotional roller coaster." – Chris perfectly describing Grey's Anatomy.
– Andy thinks the song "Respect" is spelt "R-E-S-P-E-C-G" and believes that "Uretha Franklin" is the singer's name.
– Because of Tom's last presentation, which involved lasers, Larry can no longer see the color purple. But as Ron Swanson explains, Tom wasn't the bad guy here. "That was Larry's fault. He picked up the laser and stared right into it."
– Speaking of Ron Swanson, everything he did tonight was, as usual, perfect. However, I don't think anything will top what he did to his Government Employee of the Month plaque. That was simply just amazing.
– Lastly, congratulations to Amy Poehler on her well-deserved (and long overdue) Golden Globes win.
What did everyone else think about last night's episode of Parks and Recreation?
Photo by: Colleen Hayes/NBC/NBCU Photo Bank via Getty Images