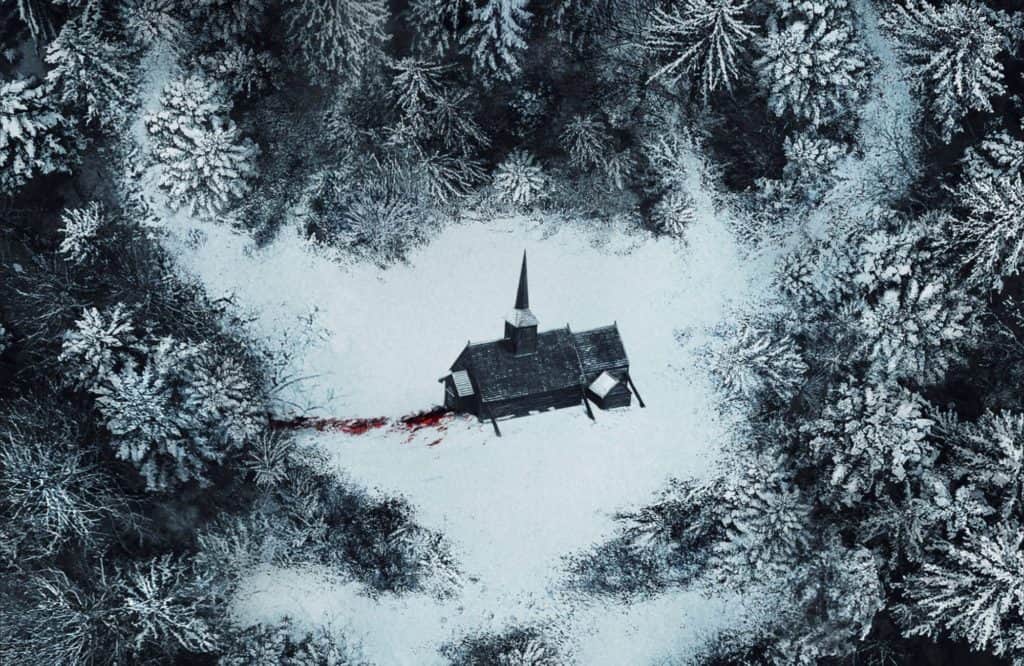 It doesn't feel like there was a lot of expectation leading up to this installment in the Paranormal Activity franchise, does it? There's probably a good reason for that, and there's probably a good reason for that. I don't like to knock movies all that often, but this one is kind of underwhelming considering all of the elements that it had at hand. An Amish family in the middle of the woods, a creepy church that sits in the center of the wood, far removed from the main property, and a bunch of folks that appear to act a bit different, and not in a cultural way. There was so much that could have been done with this movie that it's tough to see it build up and fade out so quickly before it really had a chance to get going in the first place. This has been a failing of the PA movies though since the first one since it takes a great deal of patience to really get into the movies just for a few chilling scares that might lead to something more profound.
Was this one worth it? Well, that's kind of like asking were any of these movies were worth seeing at all since they all followed roughly the same formula with the found-footage idea that didn't really fire on all cylinders a lot of times, no matter how many people want to argue over this point. The Blair Witch Project did a huge number on ruining the found-footage genre, as did movies like Cloverfield and a few others throughout the last decade and more. While the point of this method is easy to understand, it's also heavily reliant on the idea that people would be documenting every moment of their lives in such a manner, and in this kind of a situation, it feels as though it wouldn't be quite as realistic as one might want to think. Plus, thanks to the GoPro people are bound to argue that yes, they would gladly document their life if something like this were to happen.
This is one of those moments when just because the technology and filming methods are available, it's not entirely necessary to use them. In some movies, the found-footage effect does work beautifully since it's done in a manner that makes it feel absolutely real, not like something that was set up as a weak copy of something else. Maybe I'm being too cynical, but this movie really failed to live up the to franchise in a few big ways, even though there were a few very enticing elements that drew people in. The idea of Margot meeting her actual blood relatives was interesting, as was the moment when the little girl she was talking to in the trailer stated that her mother was still there. The expectations for this movie kept building from one minute to the next, and as it happens so often, it's the evidence of what you don't see that is the most terrifying aspect of all. If more of this had been done, and if the demonic entity had been left largely unseen instead of finally being revealed, as it's been done before, things might have gone a lot smoother.
As it stands, this movie leaned hard into the idea of the scared but determined lead that just HAD to take things too far and find out what her family lineage was all about. In the process, oh yes, spoilers, she finds out that her family has been making sacrifices to a demon that was kept in a mine shaft and fed raw meat for years. It also turns out that her mother had been infested by the demon since women were the strongest of the bunch that could keep the creature at bay. When Margot and her friend Chris make their escape it would appear that the demon managed to infest one of those that brought Margot to the location without her knowledge, which is where the movie ends as the possessed individual forces two police officers to commit suicide after checking on multiple homicides at the farm. The individual then drives off as the credits begin to roll.
For a movie that had at least modest expectations this movie kind of took those and tanked them as quickly as it could, creating a story that had a great deal of promise to it and cutting the legs out from beneath it. There are a lot of questions left unanswered despite the blatant manner of how this movie was delivered and how it ended, and to be honest, it'd be nice if there were one more Paranormal Activity to help wrap up this franchise before letting it rest for a while. Otherwise, this movie was one of the more disappointing entries into the franchise, but that's one opinion.