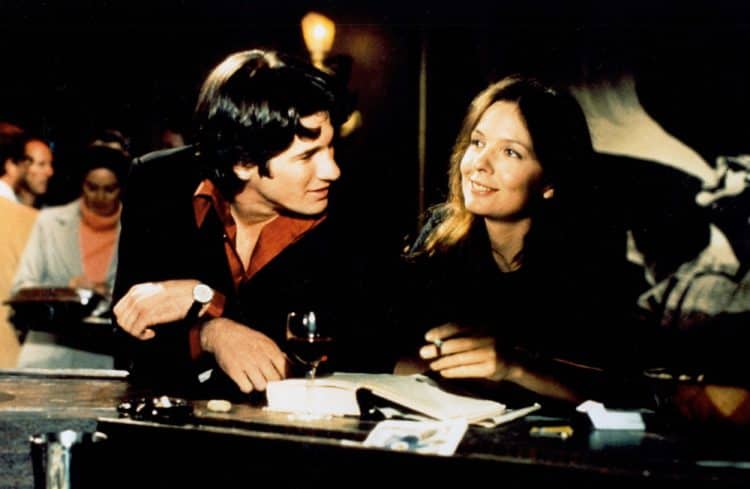 Cinema in the 1970s was truly a golden age. Year after year, both American and foreign imports elevated the artform to new heights of gritty and urban realism as the aptly labeled, "sexual revolution" played out in all its hedonistic glory. But with every The Last Detail and Taxi Driver released, there were also some equally good movies that fell through the cracks. Richard Brooks' Looking For Mr. Goodbar (1977) was one such forgotten film. Based on the best-selling novel by Judith Rossner, this film starred a fully dramatic Diane Keaton playing against type as a teacher of first grade deaf student by day, and promiscuous bar hopper seeking one night stands by night. The movie was dark, gritty, insightful, and disturbing, especially it's unforgettable final scene, which was so disturbing that it regularly sees the film categorized as a 70s horror film–according to none other than Stephen King. But despite it's initial acclaim and notoriety, this film has never gone beyond a simple VHS and Laserdisc (remember Laserdisc?) release in the 1990s. No DVD, no streaming clearance, nothing except for occasional uploads on YouTube or Vimeo, which do not stay up for long. The reasons are primarily based on the film's soundtrack, which is filled with classic 70s soul and disco tracks, which were mysteriously only ever cleared for the long ago VHS release. But is this film worth seeking out? I wholeheartedly think it is, and let me tell you why.
The Perfect Display of Urban 1970s American Culture
The novel Looking For Mr. Goodbar takes place in Manhattan, but the film oddly never establishes the setting, although it can easily be seen that the outdoor nightlife scenes are Chicago's Rush Street area. Wherever the setting, the gritty and edgy vibe that seemed to permeate in the atmosphere of major American cities in the 70s is exquisitely captured. Each of these scenes is brimming with incredible energy, classic pop and rock songs, and the carefree atmosphere of the sexual revolution, where going home with one-night stands was the norm before the arrival of the AIDS virus in the early 1980s. There was something raw and real about 70s cinema, and this movie transports you right in the center of the seedy, cramped urban apartments and smoky, disco-lit bars of the downtown area. But it's the soundtrack that truly stands out, as can be seen in the film's inventive opening sequence.
Diane Keaton's Amazing Performance
Before this film, Diane Keaton was mostly known to audiences for her turn as Kay, the long-suffering mob wife of Michael Corleone (Al Pacino) in The Godfather (1972) and The Godfather Part II (1974). She was cast as the film's protagonist, Theresa Dunn after completing her Oscar-winning turn in Woody Allen's Annie Hall, which came out a few months before this film. Whereas her title character in the Woody Allen film is witty and 'aw shucks', her turn as Theresa is much more introspective, dark, and decidedly adult-oriented–this is by far the most risqué role of her long and celebrated career. Keaton's Theresa is a contrast of extremes; and a perfect example of the flawed mixture of gray tones that makes up a person. Theresa maintains two different social dynamics; her family, friends, and students by day, and her promiscuous thrill-seeking in seedy bars and discos at night. Theresa's shadow life is not necessarily repressed since she engages in vices each night, but her pathology is also something much more dangerous since she has no desire to hide this shadow life from her school teacher persona. In fact, she enjoys the thrill and danger of being exposed.
Keaton's Theresa is also an example of feminist ideology in the last years of the Sexual Revolution; her independence and break away from patriarchal molds, namely her father's ultra-strict and masculine household, is backed up by a fierce independent streak–even to the point of being alone if it means not having to play the version of a woman that toxic men want her to be. Keaton also plays up Theresa's self-destructive tendencies very well. Her disregard for her own safety and disinterest in anything 'normal' suggests possible borderline personality disorder. By the end of the film, Theresa takes home the wrong guy–a repressed homosexual who lashes out in violence when his paranoia gets the better of him after he mistakenly thinks that Theresa is mocking him and questioning his masculinity. The final scene is not for the faint of heart, but must be seen to be believed. Diane Keaton plays all of this with stunning realism.
The Movie's Cult Status and Reappraisal as a Horror Film
In the nearly 45 years since it's release, and also thanks in part to its out of circulation status, Looking For Mr. Goodbar has easily developed into something of a cult classic. The final scene, which I will keep spoiler-free, is a 5-minute exercise in horror in what is otherwise an edgy drama. The tense, claustrophobic setting, Theresa's mounting anxiety from bringing home the wrong one-night stand, and the kinetic cinematography all coalesce into a blunt and uneasy closing image, which leaves the viewer stunned in what was a certain and inevitable conclusion.
The Movie's Message Still Resonates Today
Looking For Mr. Goodbar is a bit of a hidden secret of 70s cinema, and this is a shame since the themes and message of the movie still resonate today. Theresa's actions were risky and questionable, but her desire to live her life on her own terms and not society's often dogmatic expectations is the kind of cinema we need to see more of in a polarized, my side vs. your side type of society. Like Theresa, no matter how well-structured and maintained we like to think our lives are, we all tow the line between a public life and a shadow life, and this is not the healthiest way to experience life. Perhaps one day in the future, more people will be able to discover this long forgotten but important film.
Tell us what's wrong with this post? How could we improve it? :)
Let us improve this post!