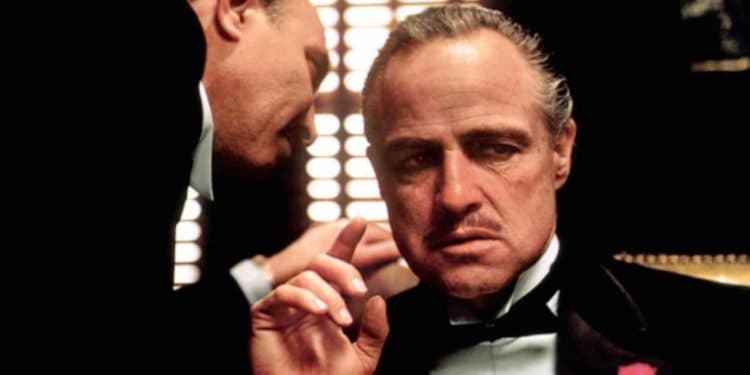 I was combing through my television channels the other day when I landed upon the familiar confines of the Corleone clan. Of course I had to stop and watch; it was an offer I couldn't refuse. The first time I remember watching The Godfather, I was five years old. As many times as I've seen this landmark film, I still marvel at it's all around greatness. It is difficult for me to even isolate a single element that I would consider my favorite. This got me thinking, why has the immense legacy of this 1972 movie endured? Why does this film continually gain fresh audiences and newfound admiration 47 years after its release? These are some contributing factors, in my opinion.
Most of the acting performances are above average but they all seem perfectly cast. It is almost an act of blasphemy to picture any other actor in the role of Vito Corleone now but the studio didn't even want to consider Marlon Brando. The only reason why he got the part was due to Francis Ford Coppola's faith in him and insistence that he was the best actor for the job. I still find it difficult to believe Brando was only 47 years old at the time of filming. As far as ensembles go, this one is as cold as they come. The efforts of Diane Keaton, John Cazale, Talia Shire, Abe Vigoda, Al Martino, Al Lettieri, Sterling Hayden and the like all serve to progress the flawless dramatic inertia that is the saga of a powerful yet flawed family. Unlike the book however, the film uses every role to efficiently serve the narrative. I've always had a special admiration for Tom. Partly because I'm such a huge Bob Duvall fan but I find it so interesting that apart from Michael, of all of Vito's sons, his adoptive son is most like him. James Caan's Santino is unforgettable and I cannot imagine him as Michael as was originally proposed. Again, it was Coppola's intuition responsible for casting the largely unknown Pacino in the starring role, serving as yet another testament to his watertight abilities.
"Take a waltz, a peasant waltz. Add a plaintive trumpet, a trembling mandolin and a stifled bass. Throw in a pinch of Nino Rota's genius and you have a piece of the most intimidating music ever heard in the cinema…it has to be the "Godfather Waltz" (BBC Review). Nino Rota's score almost stands alone as its own picture. In my opinion, within The Godfather resides one of the most unforgettable moods ever created in a film. I submit a major cause why, if not the primary reason, are the tones, vibes, and feeling established by the music. Music "that sizzles with Sicilian sleaze no matter how many times you see the film" (BBC Review).
Even more miraculous to me than the sheer excellence of The Godfather as a film is its colossal cultural significance. These are contributions that broke both molds and rules. In his 2012 book The Godfather Effect, Italian-American cinema scholar Tom Santopietro states that "the film changed Hollywood because it finally changed the way Italians were depicted on film. It made Italians seem like more fully realized people and not stereotypes". Santopietro adds, "I think it helped people see that in this depiction of Italian-Americans was a reflection of their own immigrant experience, whether they were Irish or Jews from Eastern Europe. They found that common ground". Essentially, The Godfather put a human face on a segment of the human race. Coppola was firmly aware of this. As he would later make public in his infamous Notebook, chief among his "pitfalls" to avoid were the stereotypical clichés such as "Italians who-a talka lika-dis". The Godfather not only influenced generations of filmmakers that followed in its wake; it also helped to humanize an entire culture of people and eliminate the many idiotic clichés lent by a false and very tangible credence.
The Godfather was technically brilliant and magnificently conceptualized but those factors were not enough to guarantee its success. In fact, Coppola stated in a 2017 interview, speaking of The Godfather with regards to the current cinematic landscape, the film "would never get through the process of getting an okay or what they now call a green light. Nothing can get a green light unless it's a movie that they can have a whole series of them and pretty much a Marvel Comics-type of thing". The Godfather was in a sense a result of the perfect storm of economic conditions colliding with a changing sociopolitical landscape. Even with all the circumstances falling into place, the picture was still barely made, despite the slim cost of $6.5 million. I just find it miraculous that Coppola could produce this timeless classic under such conditions. In a 2016 NPR interview, Coppola describes the making of The Godfather as "The most frightening and depressing experience I have ever had".
The dialogue always astonishes me. Every time I watch The Godfather, I am amazed at the strategic brilliance of every utterance. It also seems that after every viewing, I develop a new favorite line. I do find it humorous that one of the most iconic lines from the film was improvised. The original script read only "leave the gun". It was actor Richard Castellano that added "Take the Cannoli" after being inspired from Coppola's cannoli reference earlier in the film. This is only one example of how Coppola deviates from the novel but the screenplay is truly a master class of streamlined brilliance. After cutting unnecessary plot angles and fragmented story lines, Coppola was able to convey the feel of the heartfelt illumination of a family without losing any of the heart.
The dialogue delivered in the movie feels more sincere than in the book. As Coppola based many of the general facets and modalities of the Corleone family upon his own family, the endeavor was anything but "strictly business". However, there is a reason why it seems The Godfather contains so many iconic lines, it's because they're all iconic! I appreciate this film more every time I watch it and the dialogue is a big reason why. I still experience every line of dialogue with glorious anticipation even though I know what it's going to be.
Perhaps The Godfather endures simply because it is a great story told by fantastic storytellers. Its themes congregate around family, loyalty, revenge, love and honor. Those themes never grow old. Love of family is relatable and a relatable story told in an exciting way never goes out of style. To this day, anytime I find that The Godfather is playing on TV, I watch it. It's still an offer I can't refuse.