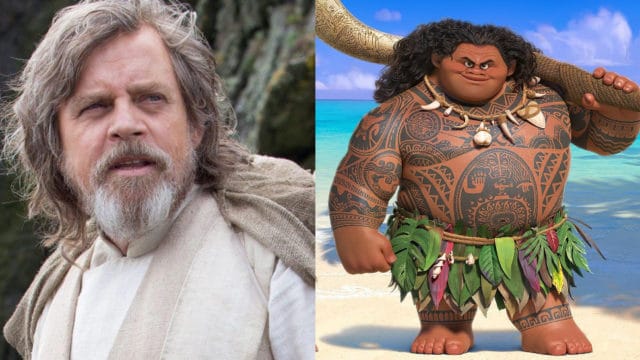 For those of you who have seen Star Wars: The Force Awakens you'll recall that Luke's appearance, while brief, wasn't exactly a happy one. The look on his face is somber, serious, as well as speaks volumes to his difficult past. There's a part of all of us that just wanted to see Rey give him a giant squeeze of a hug. Thankfully that didn't happen and the movie left us wanting considerably more. But perhaps there's another cheerful side to Luke that wasn't revealed to us?
Maybe there's a cheerful side that might welcome his new pal Rey to Ahch-To with a song? Imagine him telling Rey, "You're Welcome" in the Star Wars and Moana crossover you didn't know you needed. Yes, it's a thing.
Check it out below:
Tumblr user Charles wrote the opening lyrics as a prediction for the opening of The Last Jedi. Next, artist Ashley created an illustration to go with those words. Then, YouTuber Over English Man picked up the baton and wrote the rest of the song and performed it.