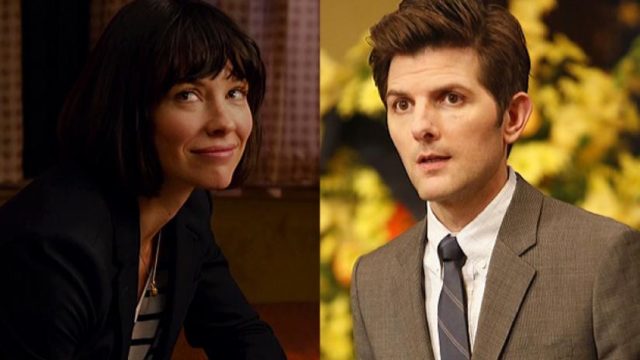 Netflix just dropped the official trailer for their newest original movie, "Little Evil," set to release September 1st, 2017. This horror slash comedy flick stars Evangeline Lilly, of Lost and Real Steel fame, and Adam Scott, popular from Parks and Recreation and Step Brothers. If you were a big fan of Netflix's previous release, the outlandish horror, comedy mash up the "Santa Clarita Diet" (in which Drew Barrymore portrays a newly minted, flesh eating Mom and Wife) in it looks like you'll be in for a treat.
"Little Evil" is described on the Netflix page as "absurd, scary, irreverent," and after watching the preview, we're going to have to agree! The two minute trailer for the new flick opens on a sort of support group where we are introduced to our main character, new Stepdad, Gary.
He is casually describing his stepchild, Lucas, whom he is having a hard time bonding with. Gary goes on to explain some of Lucas' behaviors which include playing with huge mounds of earthworms, his creepy goat puppet friend, and the way he change pitch his voice to demonic depths and demand that his stepfather "get out" of his room, because you know, that's normal.
Some friends appear to be helping Gary come to terms with the fact that his new son just might be the spawn of Satan. The new wife and Mom, Samantha, disputes that anything is wrong with her precious boy child, although she does admit he was conceived during her twenties when she was (briefly) was a part of a cult (much to her new hubby's surprise).
At 1:33 into the trailer, we see Mom put her hands on her hips and stare admiringly up at the ceiling, on which a blood red, demonic drawing with the word "rapture" written backwards is brightly displayed. She smiles proudly up at it and gushes, "So creative!" Yeah, our instinct is she's not going to be much help.
Nods to several other iconic horror films are made through out the trailer including an ominous corn field, and a shot of the child sitting in front a static filled tv screen in a dark room, mimicking "Poltergeist," for example. Which gives us hope that while this may be "irreverent," (and out right funny in parts if the preview is any indication), it will still give us some of the freak factor horror fans look for.
Netflix has been pretty successful with some of their other exclusive releases, like "Stranger Things" which has a huge cult following, "Orange Is The New Black" that had become almost a household name, and several others that have made an impact on social media and fans alike.
While it remains to be seen if fans will latch on to "Little Evil" with the same frantic enthusiasm, the trailer offers enough interesting peaking tidbits to make it worth at least checking out.
You can watch the almost two hour movie September first of this year, until then, you can watch the official trailer for this Netflix exclusive here: