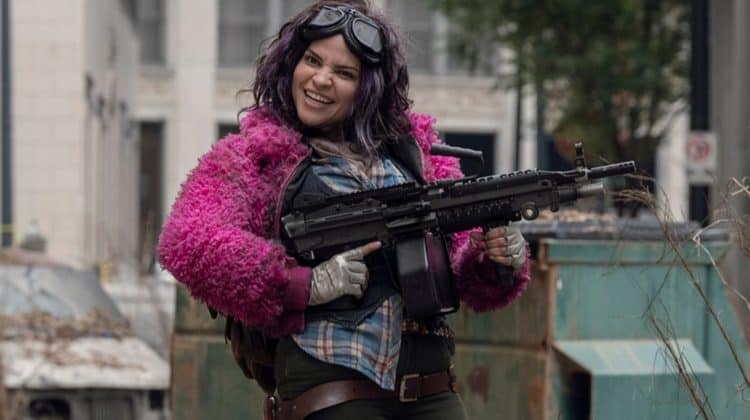 Paolo Lazaro only has about a dozen acting credits to her name, but she's made each one of them count. In the five years since making her on screen debut, she her proven that she is truly an unstoppable force. Every time she steps in front of the camera, she is sure to give it her all. Paola has gotten the chance to work on some very successful TV shows including Lethal Weapon. She also had a role in the film, Pimp. However, most people know her best from her appearance on The Walking Dead. With her combination of charisma and acting skills, Paola will definitely be leaving her mark on the industry. Keep reading for 10 things you didn't know about Paola Lazaro.
1. She's A Playwright
Those who are most familiar with Paola from her on screen work may not know that she's also got theater experience as well, and not just on stage. Paola is a playwright whose 2017 play, Tell Hector I Miss Him, earned a Drama League Award nomination for Best Production of a Broadway or Off-Broadway Play.
2. She Locked Herself In The House For Two Weeks To Prepare For TWD
When Paola learned about the opportunity to audition for The Walking Dead, she knew that she wanted to bring her a-game. She told Insider, "I worked so hard for it. I did not leave my house. I was in quarantine for this role. I did not leave my house for two weeks, just constantly with the sides. I would sleep. They would be next to me in my bed. They would come into the bathtub with me. Always. Always."
3. She Doesn't Watch A Lot Of TV
Despite the fact that Paola spends a lot of time on other people's TV screens, she doesn't spend a lot of time watching TV herself. At the end of the day, being on TV is Paolo's job, and when she isn't at work she doesn't want to constantly be thinking about work. Instead, she likes to use her time off to relax and hang out with friends and family.
4. She Was Born And Raised In Puerto Rico
Paola was born and raised in San Juan, Puerto Rico. She lived there for much of her life until relocating to New York to attend college at SUNY Purchase where she earned a BFA in dramatic writing. Although she no longer lives in Puerto Rico she is very proud of where she comes from.
5. She Has A Master's Degree
For many actors, getting into the 'real world' as quickly as possible is the ultimate goal. However, Paola was on a different path. After earning her BFA, Paola knew that she wanted to continue her education. She graduated from Columbia University in 2013 with an MA.
6. She Wants Justice For Breonna Taylor
In March of 2020 26-year-old Breonna Taylor was shot and killed while she slept in her own home by police officers from the Louisville Metro Police Department. Police initially entered the home as part of a drug investigation involving two men who didn't live at the residence. However, no drugs were found during the search. Since her death, people across the country have been fighting to have the officers who killed her held accountable. Paola has been very vocal about wanting justice for Breonna. She has posted about the incident several times on social media. Her Instagram bio also contains a link to a website dedicated to finding justice for Breonna.
7. She Loves Dogs
All of the dog people out there know there's nothing quite like the bond between a dog and a human. Paola is a dog lover (she also likes cats too) who has a fur sister named Betina who has her own Instagram account. She also seems to have another dog named Panki.
8. She Never Read TWD Comics
Even before being made into a hit TV show, The Walking Dead already had a huge fan base from the comic book series. But prior to being a part of the show, Paola wasn't involved in TWD universe at all. She had never read the comics and she had also never watched the show.
9. She Wants To Be A Screenwriter
Since its inception, the entertainment industry has lacked diversity. Although people of color have been making more on screen appearance in recent years, there is still a huge lack of opportunities. Paola believes that more Latinx representation is a must, and she'd like to be a part of making that happen. She told The New York Times, "I think there should be more Hispanic writers, especially for shows that have anything to do with Hispanic people. Let's write our own stories and create work for ourselves."
10. She Loves The Beach
As a native of Puerto Rico, Paola was lucky enough to grow up around some very beautiful beaches. As a result, she loves to be near the ocean. When she goes back home, one of her favorite things to do is hang out by the water, go swimming, and enjoy other water activities.
Tell us what's wrong with this post? How could we improve it? :)
Let us improve this post!