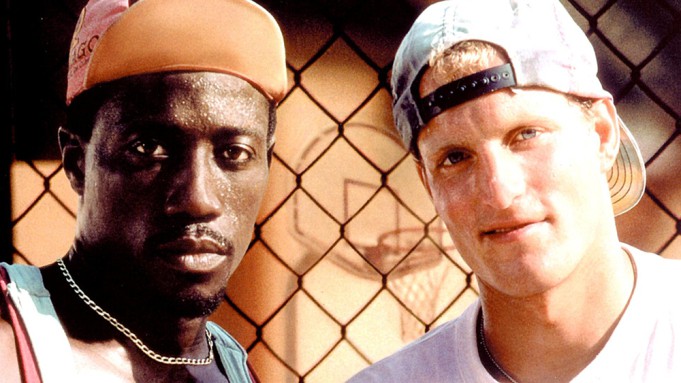 Wesley Snipes and Woody Harrelson have teamed up a couple of times in the past, once in the still-funny White Men Can't Jump, and then once again in Money Train, which was still amusing but not quite as popular. They were also in Wildcats together, and Snipes had a minor role in Play It to the Bone, a boxing movie that Harrelson starred in with Antonia Banderas. The two have proven that they have great on-screen chemistry together, but it's been a while since we had the chance to see it play out, largely because Snipes managed to get himself in trouble a while back and possibly because he's been seen as a bit of a liability by a lot of studios, not to mention something of a troubling figure since during Blade Trinity it sounds as though he was something of a male diva that didn't want to do the work at times. Rather than bash on Snipes repeatedly though, it's easier to think that if they found an idea that they could work with in order to bring another movie to the big screen it might be kind of funny to see since the two have shown that they can be great in a comedic and a dramatic sense.
Another White Men Can't Jump movie might be kind of awkward, which means, of course, Hollywood might give it the green light if someone turned out to be ambitious enough to pitch it in a way that would work, but it would definitely see Snipes and Harrelson returning as fathers most likely since at their current age they would appear more likely to be the guys that would be playing for pride and not money as they did in the first movie. Plus, if anyone remembers, Harrelson was the one between them that had more experience playing ball, but it's fair to assume that at this point they both might need a refresher course unless they've kept playing over the years. But thinking of a movie such as this makes it feel kind of unlikely that it will happen, if only because those that have the influence and the ear of those in Hollywood haven't seen fit to mention it. Both men have had a serious surge in their career over the years, but Harrelson has definitely had a better time of it since his time in movies and on TV has been a lot steadier than Snipes, who's had to mount a bit of a comeback thanks to his legal troubles and still hasn't quite made his way to the same level of stardom he enjoyed before.
When White Men Can't Jump came out, Snipes's career started firing on all cylinders as he became one of the greatest action stars around since he played in movies such as Passenger 57, Drop Zone, Demolition Man, and many others. And when the Blade movies came out he was riding high since he was one of the most perfect individuals to cast for the role that the first movie went off without much of a hitch. But it was near the end of the first movie and well into the second that the whole idea of Blade started becoming a bit played out and a little silly since the graphics were kind of lame and the visuals weren't any better. The story of Blade was still great, but the onscreen representation definitely waned in a big way. On the flipside, Harrelson took on a lot of projects that aren't as well known and didn't get him as many accolades, but in recent years his career has definitely experienced an upswing as he's taken on lesser-known roles and appeared in movies that can rightfully be called fan favorites such as the Zombieland movies that have helped him to retain his popularity. Even the Now You See Me movies have helped out a bit since they've established that despite the fact that he is getting older, he's still just as good as he ever was. Pairing these two together again might be a good idea since it would be nice to see if Harrelson's presence can help people to focus on Snipes again, and it would be nice to see if Snipes can live up to the hype that such a move would create.
Both men have done great when it comes to their own careers, even if Snipes kind of went off the rails at one point. But putting them in another movie, hopefully, a comedy, together would be kind of interesting since it would bring back the good old days in a way, but the story would need to be something that people of the current era could possibly relate to, or at least enjoy. There are plenty of stories that could work, it's just a matter of picking the right one.