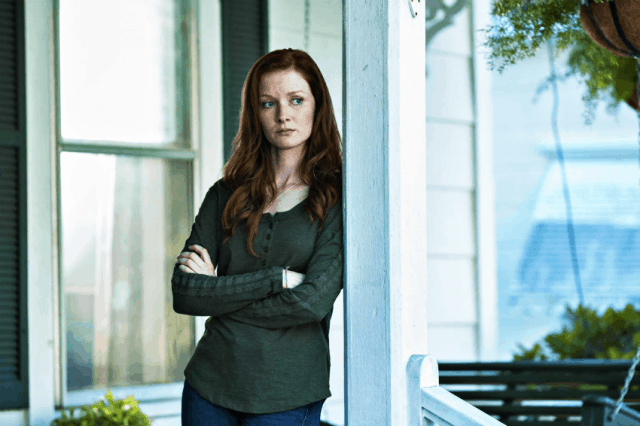 As you can tell from my recaps of the season, Cinemax's Outcast, based on the comic series by The Walking Dead's Robert Kirkman, has been one of my favorite series of the summer. The show is a story of demonic possession, but it gives a great focus on themes of identity and abuse that can often be even more entertaining and thought-provoking than its (very well-done, admittedly) exorcisms.
The entire cast of Outcast has been able to hold their own this season (here's looking at you, Brent Spiner), but one of the standouts, without a doubt, has been Wrenn Schmidt, the actress who plays Megan Holter on the series. Megan is essentially the co-lead on the series, with her personal story being given about as weight as that of the "star" of the series, Patrick Fugit's Kyle Barnes (Megan's brother on the show).
I recently got the chance to chat with Wrenn about the series and her thoughts on Megan's arc in the final two episodes of the season.
I'm always interested in finding out what attracted an actor or actress to a series to begin with, and Schmidt's reply was simply "Megan." She told me that the character herself was the biggest attraction by far, and that it was very exciting to have the opportunity to play someone that's always so at odds with the different sides of personality. The story intrigued her, but she was also nervous because of the basic story for the series. "Exorcism in the wrong hands could be awesome or really bad," she told me, and she went on to say that she never made the connection between Robert Kirkman and The Walking Dead before going into her audition, telling me that she prefers to be "blissfully ignorant" of who's going to be in the audition room going in. Her reservations were eased, though, and she was thrilled to get the job on the series. She was also excited to have a chance to work with Patrick Fugit, as the two had and earlier pilot experience together and realized they had great chemistry (she called him a "phenomenal actor," and I'm pretty sure that he would say the same about her).
On the series, Megan is a very flawed character (as the best ones often are), and a big part of her season-long arc is the effect her different traits have on her life. While she clearly has an inner strength, Megan can often appear (at first glance) to be a bit weaker on the outside than she really is. Wrenn told me that it's always interesting to play a character whose opposites constantly pull her in different directions. "I think trying to nail any human being down to specific traits is never as interesting as seeing two sides moving in opposite directions," she said about Megan. "She is at war with herself over her identity, how she sees herself, and how the world sees her. She doesn't want her identity to be about what happened to her when she was younger [as a victim of sexual assault]." That experience from her youth is definitely the biggest thing pulling her apart during the season as the return of Donnie (played to perfection by Scott Porter) to her life completely disarms her. Schmidt described Donnie as Megan's "kryptonite," and she said that he takes her away from the version of herself that she's created in which her past doesn't define her. Playing a storyline like this can be challenging, but Wrenn told me about an experience with an ex-boyfriend moving near her that helped her have some idea of what it was like. "For Megan, you have to amplify that by about a thousand."
One of the most obvious things about Megan, speaking to that inner strength, is that she doesn't want anyone else to have to deal with her problems, and she wants to handle her situation in her own way. Schmidt agreed with this, saying that "she doesn't like being vulnerable and letting other people in on her secret. She kind of dug a ten-foot hole and threw it in and buried it and said, 'I'm done with that.' She wants to finish the story on her own terms." The only person that she tends to let in on that aspect of her life is her brother, Kyle, because that story serves as sort of an unspoken bond between the siblings because of what he did for her.
---
For more on Megan's relationship with her brother and Wrenn's thoughts on Megan's storyline at the end of the season, head over to the next page!