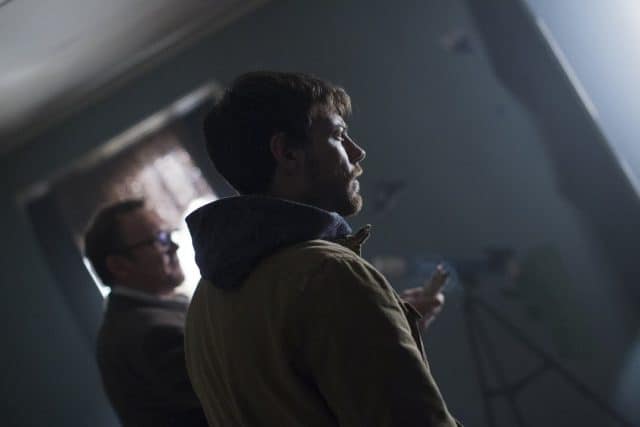 Last week's episode of Outcast slowed things down considerably, but it still offered plenty of frights and some great story progression. Let's take a look at what happened in this week's new episode, "All Alone Now."
The episode opens with a bowling double date that doesn't quite go as planned for anyone involved. The evening ends with one of the participants suffering from an apparent sudden sickness, but it becomes clear very quickly that this isn't just some small disease. What began as a night of fun ends in a moment of tragedy, and Reverend Anderson (with Kyle in tow) is dispatched exorcise what is presumed to be a demon. The scenes that take place in the prison are remarkable, and this sequence ranks up there with some of the best on Outcast so far.
During all this time, Mark is attempting to continue his investigation into what he and Chief Giles discovered in the forest. His commitment to the investigation causes a lot of tension between him and the chief, but he goes through with it anyway, truly believing that it's important. It also plays perfectly from a cinematic perspective with another investigation that takes place simultaneously, and I feel I should mention how well the direction of "All Alone Now" is. The episode shares the same director as last week's entry, and it gives a great consistency to the visual elements of the show. Outcast has boasted a wonderful production team so far, and I hope this continues as we move forward. David Denman is managing to be one of the real highlights of Outcast so far, and his portrayal of Mark does a lot to give the audience a surrogate with whom to relate.
Megan also gets a strong focus in "All Alone Now," helping to develop her character and story much more than the series has before. We also get to spend a little more time with the very mysterious Sydney in this week's episode, but we still don't find out much more about him that we've already seen. I like the way that the series is keeping such an air of intrigue around him, but I do hope we start getting a few more answers soon. Finally, the episode serves as a goodbye to a recurring character that featured prominently in the first two episodes of the series, ending this week's entry on a sad note.
"All Alone Now" continued last week's slower pacing, but the plot still progressed admirably. In addition, we got one of the best directed sequences in the series' (short) history this week, and we got to spend a lot of valuable time with some of the show's strongest characters.
What did you think of this week's new episode of Outcast? Let us know your thoughts in the comments down below!
[Photo Credit: Cinemax]
Outcast Season 1 Episode 3 Review: "All Alone Now"
Summary
"All Alone Now" continued the slower pacing of last week's episode, but it still served as a showcase of strong acting and character development.