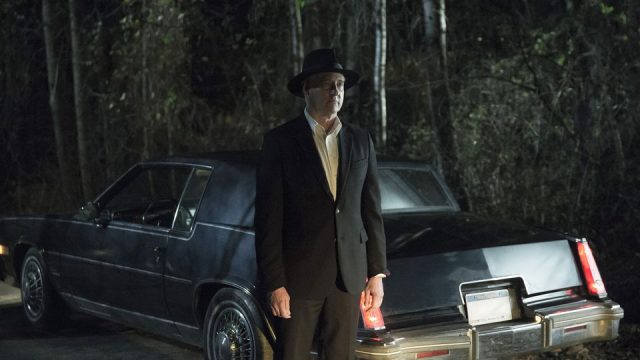 All season, Outcast on Cinemax has been trying its hardest to be the next big thing in horror. With its source material coming from The Walking Dead's Robert Kirkman, the potential was there from the very beginning. One thing that always separated the two series, though, was the very slow-burn nature of Outcast (contrasting the action-oriented The Walking Dead), but, luckily for us, this series ended up being something very special. I've mentioned before that Outcast was by and large one of my favorite shows of the summer, and this week's first season finale firmly solidified that. Without venturing too far into spoiler territory, let's talk about the season finale of Outcast, "This Little Light."
The brunt of the episode dealt with Kyle having to handle Megan's possession. The events were incredibly dark (with a big reason for that being the inclusion (especially Amber) in the situation), and I'm really impressed with the way the show dealt with it. In particular, Wrenn Schmidt did a really fantastic job at making everything her own (you can read more on this in my interview with her), and I'm very impressed at the darkness that was allowed to be present. It makes since considering what the show's portraying, but it's always nice when things aren't "lightened up" just for the sake of not getting too heavy. My one complaint is that it seems like Mark's death is just going to be swept under the rug (with the justification being that Megan herself didn't technically kill her husband), and I think that may be taking away from the consequences that the show is so focused on making us understand. These characters have done bad things (and good things), and every action has consequences. Outcast has hammered this point in for a full season, and if the consequences of this major death aren't explored then it's almost like a circumvention of what the show stands for.
Identity continued to be a major aspect of the series in the finale, and Amber's new identity is going to be extremely fun to see explored. I don't want to spoil what happened, but it's safe to say that the child is going to have a much larger role in the story moving forward. In addition, Megan's identity is completely different from what it was, say, two episodes ago, and I can't wait to watch how this new life unfolds. The final identity crisis comes from Reverend Anderson, as his final action in the episode doesn't turn out the way that he thought it would. Again, this is setting up a great storyline for next season.
I mentioned a lot of things that will be fun to explore in a year from now, but I do want to stress that "This Little Light" did a great job of wrapping up this season, too. Threads were left open, sure, and there's definitely a lot of room for growth in season 2, but there were clear endings to arcs and journeys that we've seen over these first ten episodes. I'll admit that it was clearly structured in a way that feels more like a first act than an ending before a sequel, but, knowing so far ahead of time that there will be more, I was completely okay with this. It left me wanting more while still concluding a fun season, so there's no complaint here.
"This Little Light" was extremely focused, and the storyline with Megan is really all that we needed to see here. Again, I don't want to spoil what actually happened (especially for people like me that had never read the source material), but it's safe to say that Outcast should continue on as a really spectacular summer series. I can't wait to see where the story goes from here.
Also, the final scene? One of the most ambiguous moments of the season, and I think it was the absolute perfect way to close everything out.
What did you think of the first season finale of Outcast? What about the season as a whole? Will you be tuning back in for the second season next year? Let us know your thoughts in the comments down below!
[Photo Credit: Cinemax/HBO]