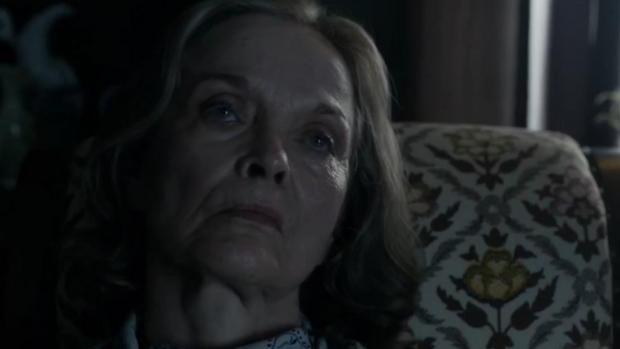 Let's not even hesitate and just jump on in with a look at what happened in the fifth episode of Outcast, "The Road Before Us."
The episode opens with a scene between Kyle's daughter and ex-wife that gives us a tiny hint of what happened in their past that sent Kyle to where he is now. It turns out that Kyle believe that Allison may still be possessed, and he's dragged Reverend Anderson along with him to the house to find out once and for all. Kyle isn't legally allowed to set foot on the property, so the reverend is tasked with observing her to make his own judgement. Kyle isn't completely satisfied, though, and he reaches out to Megan in an attempt to set up a meeting. His sister doesn't give in, but she, too, agrees to check in on Allison and observe. We've only gotten little hints about Kyle and Allison's life before the series so far, so I really like that they seem to be stepping more into the forefront for a bit. The heart of Outcast, at least as far as the characters are concerned, has always been the family drama aspect, and using Allison and their daughter in a more prominent role will only positively add to that.
"The Road Before Us" also focuses largely on the "possession-of-the-week," as I've come to call it, as Kyle and Reverend Anderson look into another possible exorcism. While this storyline could potentially add some procedural elements to the show, I'm really enjoying what the writers are doing to change up the formula. Exorcism is a somewhat untapped area of horror on television, and Outcast seems to be trying to correct this in its own way. There's also the possibility that a structure such as this could begin to feel clichéd or start to wear thin, but I think that we've got a long way to go before we even get close to that scenario.
As with previous episodes, "The Road Before Us" continued our slow introduction to Brent Spiner's Sidney. As relatively brief as his screentime has been so far, Spiner is absolutely captivating each and every time he appears, and his role in this episode is absolutely no exception. I know that I'm going to want some answers to start soon, but I have to admit that it thrills me to think about the mystery surrounding this character and what his role in the series could end up being. We also get more of Mark's investigation here, and his conflict with Chief Giles provides a perfect amount of drama and tension to what could be a completely (seemingly) unnecessary subplot. David Denman is a wonderful actor (just like most of Outcast's cast, really), and his portrayal of Mark Holter is one of the rawest and most real that the show has been able to offer. Most of the time, he feels like the surrogate for the audience, giving us someone to root for when Kyle isn't around.
While a lot of the focus of "The Road Before Us" centered on the weekly possession, the episode did a phenomenal job of developing the stories of its characters while progressing just about every important plot and subplot that has been introduced so far. In truth, this was the most eventful (and exciting) episode of Outcast since the premiere, and I can't wait for more to come.
What did you think about "The Road Before Us?" Have you been enjoying Outcast as much as I have? Let us know your thoughts in the comments down below!
Outcast Season 1 Episode 5 Review: "The Road Before Us"
Summary
"A Wrath Unseen" develops the stories of its characters in huge ways while still delivering on its weekly dose of horror.