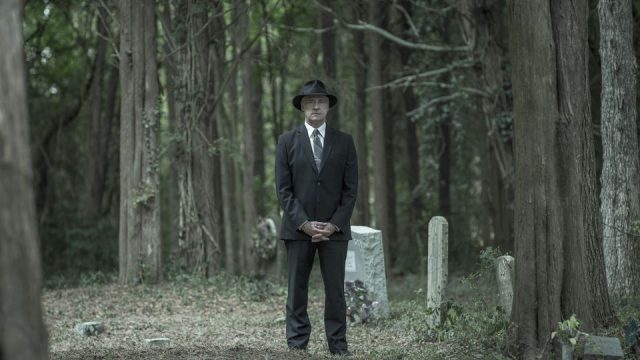 I missed it when it aired because of a vacation, but let's play catch-up and take a look at what happened in the fourth episode of Outcast, "A Wrath Unseen."
The episode opens with the funeral of Kyle's neighbor after his death in the previous episode. For a lot of the first three episodes of the series, it seemed like this man would be the one person to whom Kyle could truly relate and confide in, and that sanctuary has now been taken away. As Kyle begins to move on, both he and Reverend Anderson are introduced for the first time to Sidney, who mysteriously shows up at the funeral. We still don't know much at all about Sidney, but Brent Spiner's portrayal is enough to keep you interested without beginning to yearn for answers. I can't say how long that will last, of course, but it's satisfying enough for now.
Megan and Mark receive a big portion of the focus in "A Wrath Unseen," and their first scene serves to give us one of the most intimate and personal looks at their married life. As we glimpsed in the previous episode, Megan's past is quickly coming back to haunt her, manifesting itself in a huge way while she and her husband are on their date night. I've mentioned before that Mark is one of the most relatable characters on the show, and we're able to see this again in "A Wrath Unseen." His comrade, Chief Giles, also gets a good amount of screentime here as his own investigation (apart from Mark's) kicks into high gear after the discovery of the watch. Reg E. Cathy has been one of my favorite actors since seeing him in House of Cards, and it seems like this role is the perfect thing for him to do. With each episode, he seems to make the character his own, and it's always a highlight when he receives a strong focus.
The other big story in "A Wrath Unseen" is the weekly possession of one of Reverend Anderson's parishioners. It's interesting that Outcast is using what could be perceived as procedural elements (something I never expected the series to employ when I heard about it), but it's doing a great job so far of using these while still being its own creature entirely. While exorcism and possession is quite common in film, television doesn't typically tap into that sub-genre on a frequent basis. The fact that Outcast is and is doing it so well is very commendable. The thing that "A Wrath Unseen" does that previous episodes didn't is use a few strong jump-scares. For me, this is a plus (I'm a sucker for a good jump-scare), but it isn't for everyone. On the plus side either way, it isn't a tactic that the series uses so much that it becomes stale, so I think it's a good thing that it's shaking up its own formula in small ways.
"A Wrath Unseen" improved on the sometimes sluggish pacing that Outcast has seen in its two most recent outings while delivering some solid horror and progressing its stories in very strong ways.
What did you think of "A Wrath Unseen?" Are you looking forward to this week's new episode? Let us know your thoughts in the comments down below!
Outcast Season 1 Episode 4 Review: "A Wrath Unseen"
Summary
"A Wrath Unseen" was one of the most "horrory" episodes of the series so far, delivering solid thrills with great story progression.