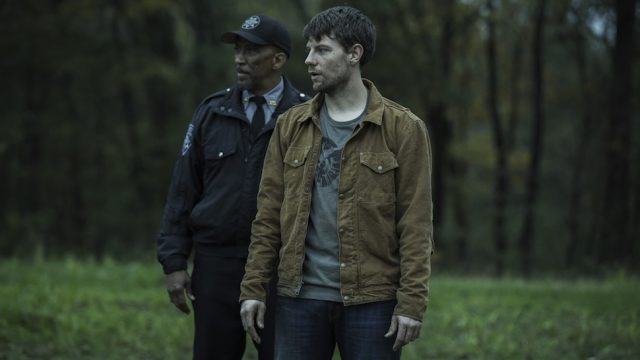 We're now on the final few episodes of Outcast's pretty spectacular first season, and major things are happening with our characters. Let's see what took place in this week's new episode, "What Lurks Within."
The episode opens with Brent Spiner's Sidney, finally giving us a look at his life before the series. Sidney has been, by far, the most mysterious character on the show, and we know so very little about him beyond snippets of what he's up to these days. He's clearly an extremely dark character, and this was an aspect of his life even before Outcast began. I've talked a lot about how much I've enjoyed Brent Spiner in this role, and the further exploration of his character that we get in "What Lurks Within" is only an extension of that greatness.
After what happened last week, Kyle is now serving as a single parent to Amber, and this role is taking an unexpected toll on him. With that said, it's fun getting to see him in this position, and it's clear that, no matter what else goes on in his life, he really does love his daughter. The family drama continues to be one of the most unexpectedly intriguing aspects of Outcast, and I credit a lot of that intrigue to the sheer skill that the cast is showing.
The most important moment of "What Lurks Within" is a conversation in the middle of the episode between Kyle and Sidney that features a ton of exposition about the underlying mythology of the series. A lot is still vague, but we know so much more about what's been going on now than we did a week ago. The most clever part of the exposition is how it makes us question our expectations. Instead of hoping for Sidney's downfall and an end to the terror plaguing the town, perhaps, we think, maybe the Devil isn't so bad. It's such an unexpected defying of expectations that I appreciate it even more than I would have otherwise. It also works on another level entirely when paired with a conversation between Chief Giles and his friend.
You can tell how close we're getting to the season finale based on what took place in "What Lurks Within," but the greatest thing about the episode is just how packed it was. What's interesting, though, is how it's still so clearly a slow-burn show. So much happened, but it wasn't in a way that was counter-intuitive to what the series has created so far. It's a little rare to see a show where every single aspect just seems to click as perfectly as we see with Outcast, and that is what makes the series so much better than it has any right to be. "What Lurks Underneath" is one of the best outings Outcast has produced so far, and I absolutely can't wait to see how this season wraps up in a couple of weeks.
What did you think about this week's episode of Outcast? Let us know your thoughts in the comments down below!
[Photo Credit: Cinemax]
Outcast Season 1 Episode 8 Review: "What Lurks Within"
Summary
"What Lurks Underneath" is a spectacular episode of Outcast that packs so much into a typically slow-burn episode.