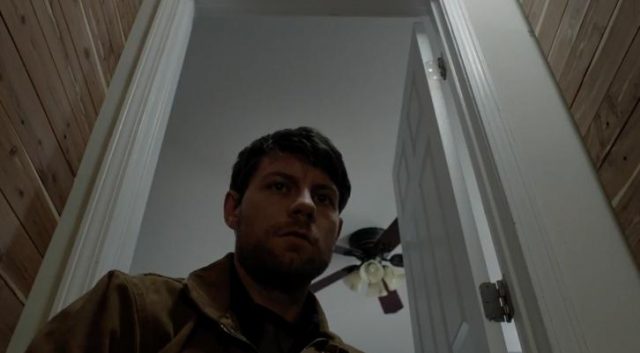 Things have been slowly building as the cogs turn on Outcast all season, and a ton of things came to a head in the season's penultimate episode. It was one of the biggest of the series so far, so let's talk about some of the major themes.
Kyle is now being seen by the audience in a bit of a different light since he's having to take care of his daughter after Allison's disappearance. All season, the child has been separated from him, but we've known that it wasn't entirely his fault. Now that she's back and his wife is gone, we get to see an entirely new side of the character. It's so clear that he loves his family and wants them to be happy, but he has such a strong drive to actually help them, too, in a way that only he can. This leads him to start trying to track down his wife, causing an encounter with his mother-in-law that is as awkward as you might can expect. The cool revelation, though, is that she knew where the kid was now, meaning Allison coming to Kyle wasn't quite as spontaneous as it seemed. This should open some doors for season 2.
Reverend Anderson is heading down a crazier and crazier path, and it's interesting seeing how this is affecting his relationship with everyone around him. We've seen what it did between him and Kyle already, but it's almost as if the show is putting him into more of an antagonistic role than before. He's definitely no longer the straight hero that the early part of the season established him as being, but I'm really enjoying this upending of expectations.
One of my favorite things about the latter part of season 1 is the way that the show has shifted from a more episodic format to a more serialized format. The series has always been about its long-running storylines, of course, but the beginning focused a bit more on "exorcisms-of-the-week," for lack of a better term, than we've seen as the season's progressed. It's actually worked really well for us, because it gave us an easy introduction to the show's larger mythology before jumping straight into this much more complex story. We also got to spend a lot of time getting to know the characters beforehand, and that benefits them more than anything else.
The "big thing" with "Close to Home," of course, is Megan. I had been told that Megan was in for a wild ride (I haven't read the comic series that the show is adapting), but, wow, I did not expect this. All season, we've seen how Megan struggles with her identity after Donnie's re-emergence on the scene and how drastically it's affected her relationship with her husband, and it's more important than ever now. I mentioned in some earlier reviews how it seemed like this story was always more off to the side than what Kyle's been up to, but I see now why that was done in the way it was (kudos, writers). In this episode, we finally see things start to get better for Megan and Mark, but everything takes a tragic turn in the final moments that will leave you desperate to see next week's finale. No spoilers here, but I can assure you that this is a big one, folks.
(For more on Megan's big moment and her character throughout the season, check out my interview with actress Wrenn Schmidt!)
"Close to Home" does a fantastic job at starting to deliver the payoff for a season's worth of episodes, and it does it in a huge way that sets up a very explosive finale. I've seen what's coming next, and you definitely don't want to miss it.
What did you think of this week's penultimate episode of Outcast? Are you excited about the finale? Let us know your thoughts in the comments down below, and tune in next Friday for the Outcast season finale on Cinemax!
[Photo Credit: Cinemax]
Outcast Season 1 Episode 9 Review: "Close to Home"
Summary
Setting up a huge finale, "Close to Home" started delivering the payoff for an entire season of build-up.