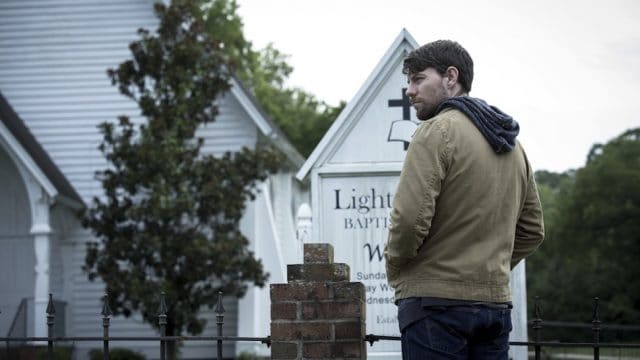 The series premiere of Outcast was an absolute spooky blast, and I've been waiting for the follow up for weeks (since I caught the premiere early). Let's jump in and take a look at what happened in the series' second episode, "(I Remember) When She Loved Me."
The episode opens with Kyle remembering again what happened to his mother when he was a kid. The effects of the "possession" (for lack of a better word, at this point) are pretty horrifying, actually, and the series is doing a really wonderful job so far at showcasing these. As he's reliving his childhood, the reverend delivers a sermon before his congregation about preparedness and facing down evil. It's clear that there is a darkness and a corruption that is going to attempt to take hold of this little town, and Kyle and Reverend Anderson will have to be on the front lines of the coming battle. Their relationship (I don't know that I'd call it a friendship, at least for now) is getting some strong development, too, which is a good thing for the series this early on.
"(I Remember) When She Loved Me" also moves a little beyond the characters we met in the series premiere and introduces and develops further members of the cast. One of these is Reg E. Cathy's Chief Giles, the chief of police that we briefly met in the first episode. Cathy is always a strong presence wherever he appears, and his role in Outcast is no exception. This seems like the perfect role for him, because it allows him to completely project his strength of personality into the character. Giles is someone that can alternate between hero and anti-hero easily, so this should be a fun character to watch. Another character we spend more time with is Kyle's mother. Because of what she went through during Kyle's childhood, the woman is completely incapacitated during the present, but the effect that she had on her son should play a big role in his development and evolution as time goes on. Finally, this week's episode gives us our first introduction to Sidney, the mysterious character played by Brent Spiner in a highly anticipated role. We don't really learn anything about him in this week's episode, but his one big scene at the end already establishes him as a strong prescence (and, perhaps, the primary antagonist?). I can't wait to find out more about him.
Outcast is, certainly, a story of evil and possession, but one of its biggest strengths (as I've alluded to above) is the relationships between its characters. The characterization of both the main and recurring cast is remarkably strong, and the developing relationships are giving the series some needed dramatic resonance. The story is important (and, so far, very strong), but a story cannot sustain itself without the characters to back it up. Luckily, Outcast is succeeding in this area.
Another aspect of Outcast that I want to briefly mention is the strength in direction. Adam Wingard did a perfect job with the series premiere, and Howard Deutch followed it up seamlessly. This episode was much more focused on character development than on frights, and it seems like the production staff is playing to the right strengths with each episode.
"(I Remember) When She Loved Me" slowed things down a lot from the series premiere, but it used that slower pace to do some extremely strong character-building. The slower pace still allowed for a good amount of plot progression, though, and it looks like the series understands its target audience almost perfectly. We're still in the very early days of the series, but it's promising to see so much potential for a show that, so far, isn't at all being wasted.
What did you think of "(I Remember) When She Loved Me?" Are you enjoying Outcast as much as I am? Let us know your thoughts in the comments down below!
Tell us what's wrong with this post? How could we improve it? :)
Let us improve this post!