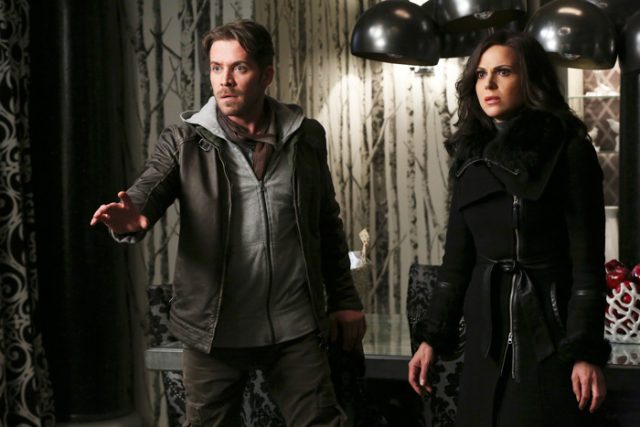 The people of Storybrooke won't be dealing with Hades or the Underworld in Once Upon a Time Season 6, but that isn't stopping a fan-favorite character, who was killed off last season, from returning. As first revealed by EW.com, Sean Maguire's Robin Hood will be back on the ABC series this season for a multi-episode arc.
However, before Regina and Robin fans get too excited, Maguire's return does not mean Robin Hood will be coming back from the dead. In fact, Once Upon a Time creators Adam Horowitz and Edward Kitsis have confirmed that the character will remain dead and are keeping how Robin Hood will reappear and what role he'll play in Season 6 under wraps for the time being.
"We're thrilled to have Sean back for this story arc and are excited for the audience to see what we have planned, which in the wake of his character's heartbreaking demise, is something we hope is unexpected and surprising," Horowitz and Kitsis said to EW.
Once Upon a Time fans will remember that Robin Hood was murdered by Hades (Greg Germann) with the Olympian crystal near the end of Season 5. Hades promised that anyone killed by that crystal would be obliterated from existence; there would be no afterlife for them. However, in the Once Upon a Time Season 6 premiere this past Sunday, Henry provided Regina with some hope that Robin's soul could still be out there, somewhere.
In addition to returning to Once, Maguire can also been seen this fall on NBC's new series Timeless. On the show, Maguire will be playing Ian Felming, author of the James Bond novels.
Once Upon a Time Season 6 airs Sundays at 8 p.m. on ABC.
Once Upon a Time fans, what do you think about this news? Are you excited to see Robin Hood return? Comment below and let us know.
[Photo via ABC]