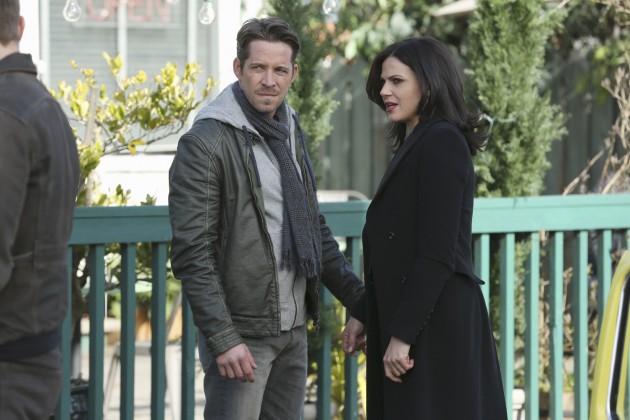 As the season finale approaches for Once Upon a Time, last night's episode brought all the final pieces together, as Lily is reunited with her mother, Maleficent, while the Author and Rumple obtained the core key to their plan.
While I'm sure this was intentionally, it's overwhelming how quickly Once Upon a Time has made Lily unlikable in her short time on the show, and while the reunion between her and her mother was emotional, I'm wondering if putting a story like this in Episode 21 was such a good idea, with Season 4 almost being over. It also felt a little bit too predictable, as nothing really shocked me; we all knew she was going to transform into an uncontrollable dragon and have all this hatred towards the Charmings. I was shocked, though, that it was Regina that unintentionally caused it because of her goal of getting the blood. It's a good thing that Once Upon a Time got an extra episode to make next week a two-hour season finale because that's the only way I can see Lily and Maleficent getting a decent wrap up.
Who doesn't love themselves a good dosage of everyone's favorite mother, Cora? The flashbacks in this episode may have been the strongest out of all them in the second half of this season, as they forced Regina to reflect on her past and affected her actions in the present. The minute Cora walked into the room, it was intense right from the get-go, because it doesn't matter how many times she was trying to show true motherly love, this woman is not someone you should trust. Nottingham's role in "Mother" was something I could care less for, although it confused me how Regina was so easily fooled. Correct me if I'm wrong, but didn't she and Robin meet before this event happened? Was this just the case of that she didn't remember his face that clearly? We will never know, but what we do learn from these flashbacks is how and why Regina is unable to have kids, which was tragic to watch unfold.
I haven't commented too much on Hook lately, mostly because my opinion of him hasn't really been altered that much. He has his moments when he isn't just being used as a love interest for Emma, but this week he really stood out a lot during his scene with Emma at the docks, where he gave this great speech about forgiveness and why she should accept her parents' apology. Hook's word led to a great moment between the Charmings (although mostly for Snow) and Emma, as she forgave them; that was something that desperately needed to be concluded before we get into the finale.
The only issue I had with this episode as a whole was that it took way too long to start setting things up for the season finale. There was a lot of exposition, especially in confrontations between characters like Regina and Zelena. There were so many times when the phrase "less talk, more action" crossed my mind as I watched the episode. Luckily, the final five minutes really set it all up, as the Author betrayed Regina and returned to a dying Rumple with the ink to begin writing the first page of "Heroes and Villains." Based on the promo that aired, next week's episode is going to be a very different type of season finale for Once Upon a Time. However, despite my excitement for the finale and the many good moments that this week's hour featured, "Mother" felt way too much like a "regular" episode of Once Upon a Time instead of the action-packed penultimate one I was expecting.
Don't miss the two-hour season finale "Operation Mongoose" this Sunday, May 10th, 8/7c on ABC!
[Photo via ABC]