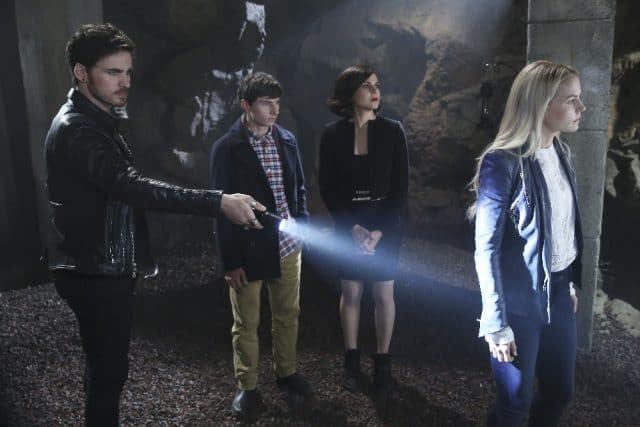 Once Upon A Time has been on a roll lately. I approached this week with extreme caution, because it's the day that they finally tackle one of my all-time favorite Disney films: Aladdin. Since they've gotten back to their roots in terms of feel this season, though, I'm happy to report that it worked really well.
This week on Once Upon A Time: Emma and Archie discover Jasmine's true identity, and the gang takes up the mantle to locate Aladdin, another "savior". The Evil Queen kidnaps Archie, and poses as him to get Emma to reveal the content of her visions. In the flashbacks, Aladdin and Jasmine forge a relationship, as Jasmine seeks his help to defeat Jafar once and for all.
As I said above, the story of Aladdin/Jasmine/Jafar worked really well. There were some nice little nods to the animated Disney film, and it fit in the Once universe quite nicely. The only thing that disappointed me about it really was that they've totally erased Jafar and Cyrus (who I assumed to be the Genie) from the Once Upon A Time in Wonderland continuity, which was a sorely underrated show. Also, would really like to see some Abu down the road. Still, Aladdin and Jasmine are both well cast, and Aladdin giving in and erasing his Savior ability is a great twist.
What I'm really intrigued by in all of this is what the Evil Queen is playing at with Zelena. Maybe, since Jekyll and Hyde revealed that neither was all good or all bad, this is EQ's good side coming out to play a little bit. On the other hand, she could have an end game in her master plan, too. Either way, I'm intrigued.
I'm appreciative of the new flashback stories each week, too. Flashing back and forth between the same two stories for half seasons at a time doesn't really work. I have said it every week, but I enjoy this show much more back in its Season 1 & 2 style.
Okay, now for the criticism. All in all this was a good episode, but did Hook keeping those shears was the single most predictable plot point of the season so far. Of COURSE he won't get rid of them. He loves her and will want to use them to save her. I think we the show would've done better to just not show him pulling them out of his jacket shadily, and saved the reveal for a better moment. Of course, the greater conspiracy theorist in me wonders if Emma will meet her maker at all, or if the shears TRULY work. I'd be willing to bet that Aladdin still has a hand in saving Agrabah.
Here are a few additional thoughts:
If everyone's therapy session is so important, how long do they take to get Archie back? This is a serious nagging question.
So Jasmine just assumes that the scarab in a skeleton means that Aladdin is dead? She doesn't grieve over his would-be body? Or do any investigative work around the garments?
"I could show you a whole new world!" Well played.
I enjoyed this episode for the most part, but could've done without the Hook "twist". All in all, still a solid episode with a lot of good stuff.
What did you guys think? Did you enjoy the episode? Let us know in the comments!
Once Upon A Time airs Sundays at 8/7c on ABC
Once Upon A Time Season 6 Episode 5 Review: "Street Rats"
Summary
The heroes search for Aladdin, while the Evil Queen uses Archie to get information on this week's solid Once Upon A Time.