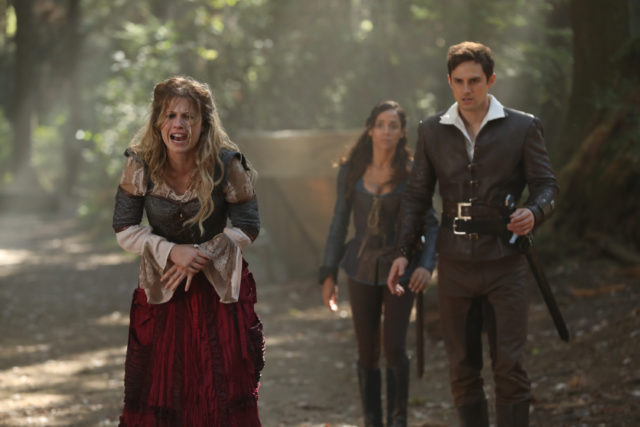 I finally must admit something to myself that I hoped I'd never have to. I have to reconcile the fact that Once Upon A Time will never recapture the same sense of wonder and intrigue it possessed in its first two seasons. I have long been hoping they would be able to do it, since that sense of mystery is what hooked me to the series in the first place. However, now that I've admitted that they will never recapture it, Season 7 is now the closest they've ever come to recreating it. Off and on during the first few episodes, I felt something similar to watching the first few seasons. But watching the backstories of the familiar characters gave a different feeling. They were excellent episodes, but in a different way. Most recently, "Eloise Gardener" and "Pretty in Blue" evoked the strongest sense of intrigue I've felt watching Once Upon A Time in several years, and it was a feeling I'd truly missed. It may not have been on par with those original seasons, but it's the best work they've done in some time.
Since this Hook is from "Earth-2", there's a divided sense of exploring his backstory and knowing his character. But as the season has gone on they've addressed issues like who Hook's daughter is and how he got her. It further explores the backstory of Henry and Jacinda, Jacinda's mother, Drizella, Alice, and even introduces some new characters. All of this backstory was presented in an intriguing way and kept me interested for two consecutive episodes. That's near impossible with any show nowadays, but Once had me completely engrossed.
Admittedly, it can be a little convoluted. Earth-2 Hook was tricked into having a child in the same way that Robin Hood was on Earth-1. This raises some issues of consent and what is considered rape. I would agree that there was no consent in this case, and that Hook-2 was in fact, raped. The question is whether the show's depiction of that condones that behavior or not. I don't think it does. Hook-2 was manipulated by an evil witch so that she could get what she wanted. That's wrong. We all know that. But I believe that the purpose of the illustration was not to condone that action, but rather to assert that beautiful things can come from horrible circumstances. Hook-2 became a father, to Alice. They have a beautiful relationship, and Alice would not exist if the previous action had not occurred. Positive circumstances can come from terrible ones.
Here are a few other thoughts:
I really like Adelaide Kane and the Ivy/Drizella character. I like her even more now that she's displayed so much depth and more ambiguity. She's certainly the best antagonist on the show in quite some time.
We're supposed to take it to mean that Henry's friend Jack is of "beanstalk" fame, right?
I've been pretty ambivalent about most of the new actors this season, but Dania Ramirez and Rose Reynolds really separated themselves from the pack tonight with their performances. Once is starting to figure out what works.
Ultimately, Once Upon A Time felt like its old self. Regina protecting Henry (who obviously got his heart poisoned, right?) and challenging Rumplestiltskin, combined with new backstories of the characters we've met over the past few weeks. Those backstories become more and more compelling as the show has moved forward, and I'm looking forward to seeing the stories continue to develop.
What did you guys think? Did you enjoy the episode? Let us know!
Once Upon A Time Season 7 airs Sundays at 9/8c on ABC
Tell us what's wrong with this post? How could we improve it? :)
Let us improve this post!