Emma had to confront her own past in this week's episode of Once Upon a Time. After two children (Ava and Nicholas) tried to shoplift some food, Emma was called in by the store owner. She drove the kids home and quickly realized that they were squatting inside the basement of an abandoned house. As it turns out, their mother had died a while ago and the children were on their own, not knowing who their father was.
Emma brought the children to Mary Margaret's house and told her that she wanted to track down their father so that the kids didn't have to go into foster care. But Regina interceded and said that Emma needed to bring the kids to separate homes in Boston. More determined than ever to find their father, the kids gave her a compass they believe belonged to him. She asked Mr. Gold for help and he said that he sold it to a man named Michael. Michael was Ava and Nicholas' father, but he was also a down-on-his-luck mechanic who said he wasn't ready to be a father. With no other choices, Emma prepared to drive the kids to Boston. But after the car stalled on the road, she called the garage for a tow trunk. After seeing his children, Michael agreed to take on the responsibility of being their father.
On a more personal note, Emma told Henry about his father in this week's Once Upon a Time. She told him that he was dead and had died saving a family from a burning building. But she later admitted to Mary Margaret that she had lied and that Henry didn't need to know the truth about his father. Emma also told Mary Margaret about Henry's storybook and how he was convinced everyone in town was a fairytale character. She said Henry believes Mary Margaret is Snow White and that Emma is supposed to be her daughter. The two shared a chuckle over it and Mary Margaret seemed to dismiss it. At the end of the episode, a mysterious stranger rode into town.
Meanwhile, the Once Upon a Time writers had a bit of a twist on the Hansel and Gretel tale. While chopping wood in the forest, their father disappeared and the children came across the Evil Queen. She told them she would help them find their father if they stole something from a blind witch. Unfortunately, despite the Queen's warnings, Hansel ended up eating something in the house and the witch woke up and captured them. Fortunately, Gretel was fairly clever and the kids were able to escape.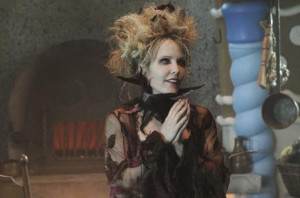 Later, they returned to the Queen and it was revealed that she had asked them to steal the poisonous apple that she would later use on Snow White. She admired their cleverness and spunk and offered to let them live in the castle. But they were determined to find their father and refused. We also learned that she kidnapped their father so that she could use the children to steal the apple. At the end, she let him go, but we don't know whether he and the kids were reunited.
A few final things:
-Mr. Gold clearly knows more than he's letting on. When Emma came into his shop to find out the name of the compass owner, he consulted a piece of paper. But it turns out that the paper was blank, leading me to believe he knew exactly what was going on with Ava and Nicholas.
-How interesting that the Queen had to steal the poisonous apple from the blind witch. I can't wait to see how she actually gives it to Snow White.
-Do you think that Hansel and Gretel's were reunited with their father?
-Who is the mysterious stranger who arrived in town at the end of the episode? Any thoughts on his fairytale counterpart?
-I haven't really gotten a good look at the fairytale dwarfs, but it seems clear that the store owner is Sneezy.
-Who else thought that Mary Margaret might remember her fairytale past when she smelled Emma's blanket? Because I did.
-What could be the truth about Henry's father? Do you think we'll see him anytime soon?
A new episode of Once Upon a Time will be airing next week on January 22. Watch a trailer for it here.
Tell us what's wrong with this post? How could we improve it? :)
Let us improve this post!