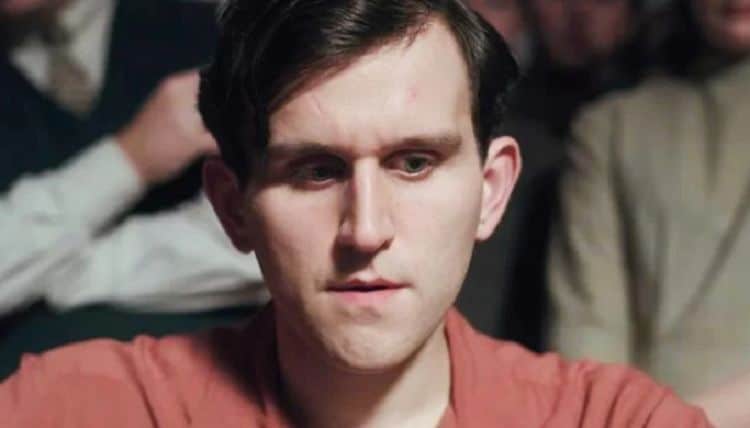 How many people really think of Harry Melling these days? In terms of the Harry Potter movies, the fondest moments of Melling for many fans happen to be in the deleted scene when it would appear that Dudley makes some type of peace with Harry, or when Dudley is getting his comeuppance. But Melling, who's changed quite a bit since the movies, has been on a roll since his time in the Harry Potter franchise and has shown a great deal of talent as a supporting actor, which is one of his strong points, but he's also come forward as a very strong cast member in several ways. This time around he's going to have to be on his toes quite a bit since playing the role of someone like Edgar Allan Poe is bound to place a little pressure on the actor, but playing alongside Christian Bale as well will no doubt be another experience in and of itself. To say that Melling has been on-screen with famous faces for a good portion of his life is fair, which means that the pressure is still there, but it's likely a pressure he's become used to.
When comparing his reputation and acting credentials to the rest of his costars from the Harry Potter series though it's definitely revealing that out of all the kids he's been one of the most successful. One might have thought that Daniel Radcliffe, or Emma Watson, or Rupert Grint would have been showered with offers for movies and shows after the franchise was over, but like anyone else, they've had to work to keep their reputation. Grint is perhaps the least successful out of the bunch, but he's been doing his own thing and popping up here and there over the years, while Watson went on to become one of the most popular young women in show business before diverting her attention to other matters. Radcliffe has been coming up with various movies over the years such as Horns, Guns Akimbo, and several other movies, but Melling has been keeping quiet while still doing his thing and killing it, to be honest.
It does feel that Melling has been one of the most understated and underestimated members of the Harry Potter cast, perhaps because he had such an unlikeable role. It's a bit tragic really since the actors who played his mother and father were able to step away from their roles rather easily, but Dudley followed Melling for some time, and is thankfully now a role he's still known for but has shed. This was something that Melling had to outgrow and finally distance himself from since as it's happened to many actors, fans don't always disassociate the movie characters from the real people. The best examples are villains and troublesome characters such as Dudley since there are stories of people actually coming up to actors on the street and berating them for the actions that their villainous characters have performed. Seeing how Dudley was so horrible to Harry in the movies on a regular basis it's not hard to think that fans would mock and berate Melling for this.
Thankfully he's able to get the last laugh in his own way since his career has been rising over the years and he's been more than up to the challenge of creating and maintaining a reputation that has seen him taking on one role after another while making it work in ways that have allowed him to excel and continue to grow as an actor. This upcoming Netflix project is bound to be one that will test him once again since playing the part of Poe isn't likely going to be a walk in the park given what people are able to find out about Poe from the history books. It's very likely that Melling is going to be doing his research, hopefully, and will produce an act that people will be able to buy. So far he's been doing just fine in his career and has been completely believable, it's hard to think that he'd slip that much.
Plenty of the Harry Potter stars have gone on to do other things with their lives or have done their best to continue their careers, and while some of them have succeeded in a very big and noticeable way, others have been moving right along without as much fanfare or recognition. Melling is one of those that has managed to impress a lot of people since finishing with the franchise, and it's easy to think that he's going to keep impressing people since there's no reason to stop now. How he'll match up to Christian Bale is a good question, but it's easy to think that the two will make it work in their own unique way.